Chartered Society of Designers the internationally recognised body for the design profession, providing support and guidance for designers at every stage of their career 'from learning to earning'™.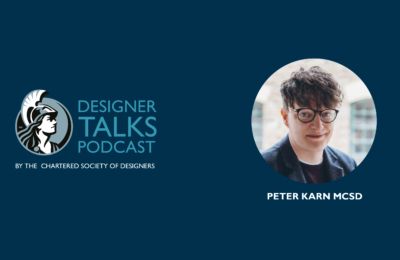 Designer Talks podcast Ep. 8 – Peter Karn MCSD
Designer Talks asks designers how they do it,  why they do it, what makes them tick and what design means to them, hosted by Lefteris Heretakis aCSDf.
Our
Purpose
01

Recognition

Membership of CSD signals to clients, employers and the design profession internationally that you have been recognised by the leading professional design body as practicing to the highest standards in your specialist design discipline.
02

Promotion

Members benefit from the use of post nominal letters, certificates, membership marques, signboards, networks, exhibitions and online portfolios enabling them to promote their professional achievement to the public.
03

Credibility

We are the internationally recognised professional body for designers practicing in all design and design related disciplines, benchmarking and accrediting best professional design practice and study.
04

Public Benefit

As a registered charity we provide public benefit by promoting, qualifying and maintaining professional standards for designers.
05

Support

Our international programmes, initiatives, benefits, services and advice support designers in practice, those studying and teaching design and design users whether in the public or private sector.
06

Framework

We have developed a unique framework for the profession, CPSK™ against which best professional design practice is benchmarked and which underpins design practice, education, training and accreditation. It has been specifically designed to harmonise with QAA and EU Quality frameworks and those adopted by other professions raising the level of professional design internationally.
07

Chartership

As well as holding a Royal Charter since 1976, we have been granted exclusive powers by HM Queen Elizabeth II to hold The Register of Chartered Designers enabling the award of Chartered Designer which is conferred to members in their design specialism and to licence other professional design bodies should they wish to do the same.
08

Education

We designed and developed the CSD international Course Endorsement Programme which supports, benefits and acknowledges design courses preparing students for a career as professional designers by awarding 3 levels, Accreditation, Recognition and Validation.
09

Membership

We offer a wide range of memberships internationally to suit designers at every stage of their professional career, in all design disciplines and to engage with those practicing in design related fields.
10

Advocacy

We represent the interests of professional designers to sector stakeholders internationally, from governments to international organisations, clients and employers, ensuring there are communication channels available for designers to influence developments affecting their profession wherever they practice.
11

Development

Our members are encouraged to continually develop their competencies for the benefit of their employers and clients ultimately benefitting the public. A range of development tools, CPD and training modules are promoted to support members.
12

Networking

A range of activities, events and social media channels allows members the opportunity to connect and engage with others in their own design specialism, in other design disciplines, in education, related practice, other professions and with clients.
13

Business

We provide our members with opportunities for business development through inclusion on Find-a-Designer and specific matchmaking events, nationally and internationally, organised by both the public and private sectors.
14

Advice

Whatever the situation, we are there to support our members and either offer one-to-one counselling on a range of matters or partner with others to provide the specific expertise required for business growth, personal development or to deal with the complexities of design practice.
15

Offers

Our members benefit from a range of discounts and special offers including: books, events, exhibitions, conferences, insurances, mediation, consultancy, software, business services, etc.
16

Communications

We keep the design sector up to date with TheDesigner for practitioners and OnCourse for those in education. Our full range of social media channels allows multi-way communications and we broadcast specific emails targeted to members' interests.
17

Engagement

As a member of CSD you are welcome to participate in any of our initiatives such as: assessing, working on accreditation panels, sitting on committees, visiting schools and universities, giving talks, participating at exhibitions, sitting on advisory boards, etc. as well as voting on CSD governance and policy if becoming a full member.
18

Awards

We offer a variety of awards spanning all levels of design practice: CEP annual student prizes, Minerva Medal, Honorary Membership and Fellowship, the Prince Philip Designers Prize, the Prince Philip Student Design Awards plus prizes and competitions in collaboration with other entities.
19

Funds

We administer the Anice Alexander fund, British Institute of Interior Design fund, Life fund, Chartered Society of Designers Trust fund and others. All funds support various aspects of design practice and education.
20

Archive

We maintain a complete archive of journals dating back to the 1930s together with membership statistics spanning decades. Other publications in the archive provide insights into the development of the profession since 1930. Members regularly donate material to the archive and we are always happy to receive such artefacts.
21

Collaboration

We engage with a wide audience to promote best professional design practice and the services of our members. Working together with like minded professional bodies also enables us to more readily fulfil our public benefit remit, collaborating on research, training, professional development, education and other such initiatives.
22

Inspire

We inspire: those seeking career information to consider all design areas, design students to excel in their study of design, academic staff with innovative programmes and briefs, design practitioners to continually develop their professional competences and professionals in related fields to collaborate with designers.
23

Research

Our database of designers covering almost a century provides invaluable material that informs the academic study of the profession and offers a wealth of statistical information now being complimented by our regular design surveys providing current data and future trends which is regularly offered to the Bank of England, design organisations, government bodies and commercial entities.
24

Protect

Our programmes of support, benefits and services in collaboration with specialists are all structured to protect designers working in their specialist design discipline. These include Intellectual Property, legal, insurance and business support. In protecting designers we in turn protect clients, customers and consumers benfiting the public.
25

Standards

We have set the standards for best professional design practice that are adopted by design courses, design businesses and design practitioners and are pre-eminate in accrediting agains CPSK™, the framework that is adopted by any design membership body seeking a licence to award Chartered Designer status.
Event name
Details
Description
ICSAUD 2024: 18. International Conference on Sustainable Architecture and Urban Design
18-19 January 2024

Venue: Online
The International Conference on Sustainable Architecture and Urban Design brings together leading academic scientists, researchers, and scholars. This event serves as a platform for the exchange and sharing of experiences and research outcomes in all aspects of Sustainable Architecture and Urban Design. Attendees are invited to participate in discussions and contribute to the collective advancement [...]
Read more
Surface Design Show 2024
6-8 February 2024

Venue: Business Design Centre, 52 Upper St, Islington, London, N1 0QH
The Surface Design Show is set to return in February 2024, featuring an exhibition, a series of talks, and an awards ceremony. The theme for the 2024 edition is Mindful Living, delving into the interplay between creativity, intuition, and analytical design, along with a focus on virtual design and technology.
NTU Creative Futures 2024
07 February 2024
10am - 3pm
Venue: Newton Building, City Campus, Nottingham Trent University, Nottingham, NG1 4FQ
The Nottingham School of Art & Design is hosting its annual Creative Futures event, bringing together students from across creative disciplines, including CSD Accredited Courses, with industry professionals for an afternoon of inspiration and career preparation.