16.12.2021
Web Media And Visual Design Programmes At Bahrain Polytechnic Receive Accreditation from CSD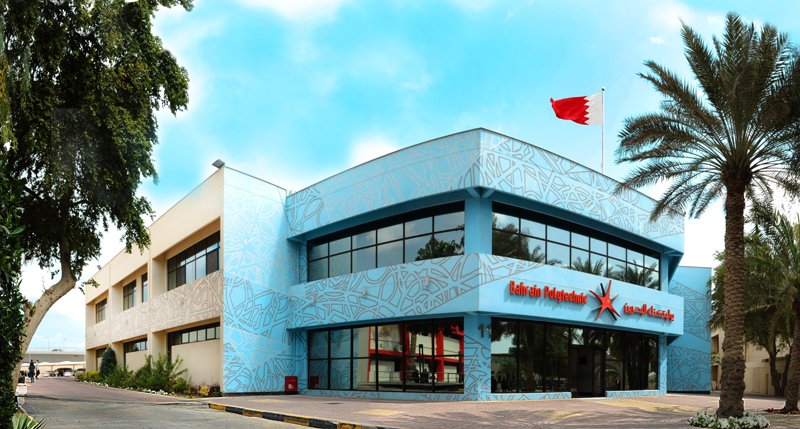 Bahrain Polytechnic's Bachelor of Web Media and the Bachelor of Visual Design degree programmes have officially achieved full international accreditation status from the Chartered Society of Designers (CSD) Course Endorsement Programme (CEP) (November 2021).
This significant milestone means that all current and future students of both degree programmes will graduate with internationally accredited qualifications, enhancing their employability potential, increasing the value of both degrees, and fortifying the reputation of Bahrain Polytechnic as a world-class education provider.
This achievement followed a three-year collaborative process between CSD and Bahrain Polytechnic, led by Dr. Owen Gallagher, Web Media Programme Manager, with Ms. Ruqaya Ahmed, Visual Design Programme Manager and their respective academic teams within the recently established School of Creative Media. Frank Peters, CSD Chief Executive, oversaw and chaired the CSD Accreditation Panel consulting with Web Media and Visual Design staff as part of the scheduled CEP accreditation visits, which took place in September 2020 and May 2021.
Speaking of the announcement, Frank Peters said: "Since first being approached by Bahrain Polytechnic I was impressed with the professionalism and commitment shown towards the development of their programmes and their eagerness to collaborate in the interests of their students.
"It's a delight to work with an institution and its staff that share common values and I look forward to supporting the programmes and exploring further opportunities. This accreditation is the latest in our global education initiative and the first in the region and as such is therefore a significant milestone in international design relations."
The School of Creative Media at Bahrain Polytechnic will benefit significantly through its ongoing association with CSD and its recently accredited Web Media and Visual Design programmes. Both qualifications will identify as officially "CSD Accredited" in all future branding and promotion, which will help to differentiate Bahrain Polytechnic's programmes from others in the educational market and make them more attractive to potential future students.
The degrees will be promoted in the CSD Find-a-Course directory, and benefit from regular visits by professional speakers in the fields of design and media, participating in initiatives such as workshops, seminars and other professional development opportunities for tutors, lecturers, and students.
In addition, all students receive e-Student membership of CSD throughout their course and are automatically eligible for Associate Membership on successfully graduating. Staff are also able to become Affiliate Members and Fellows in addition to their accredited qualifications, which offers opportunities for industry-specific international networking, internships, and employment opportunities.
Dr. Owen Gallagher, Web Media Programme Manager commented: "It is an honour and a privilege for us to be associated with the Chartered Society of Designers, and after a multi-year process, we are delighted that the Web Media and Visual Design programmes have now achieved full CSD accreditation. I believe our students and graduates will benefit greatly from ongoing exposure to the CSD principles of Creativity, Professionalism, Skills, and Knowledge, which will become fully embedded in all current and future programmes of the School of Creative Media, including the upcoming Bachelor of Film and Animation. The conditions and recommendations provided by the accreditation panel were extremely valuable and will help us to make ongoing improvements in our degrees. I'm excited to continue our collaboration with the CSD and look forward to the opportunities it creates."
The Bachelor of Web Media and the Bachelor of Visual Design in the School of Creative Media are the first degree qualifications of the Faculty of Engineering, Design, and ICT (EDICT) at Bahrain Polytechnic to achieve international accreditation. The School of Engineering and the School of ICT are currently pursuing accreditation in their respective domains with other international bodies.
Bahrain Polytechnic is committed to achieving international accreditations for all of its degree programmes, in line with its strategic goal of graduate success, to be recognised for the unique qualities of its graduates: enterprising individuals, well prepared through future-oriented, innovative education and internationally accredited programmes, to take their place in a world of greater opportunity and complexity.