12.12.2022
Times Higher Education's Global Sustainable Development Congress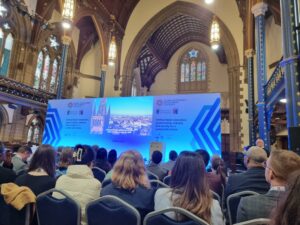 The Society participated at the Times Higher Education's Global Sustainable Development Congress at the University of Glasgow which united higher education, governments, industry and civil society seeking to ensure a more sustainable future. Prince Sultan University in the Kingdom of Saudi Arabia invited CSD to attend and speak as part of its delegation and as a result of our ongoing collaboration and partnership of the Global Education Policy Network (GEPN).
The event delivered an immersive, multi-track agenda tackling the big issues around SDGs, with world leaders and influencers sharing their insights on the challenges faced in converting the goals into action and impact.
A tree was planted on behalf of everyone who registered for this event. Working with the Woodland Trust, over 300 native Scottish trees will be planted in the neighbouring Cochno Farm and Research Centre. CSD's attendance helped create tomorrow's forests as part of a 15-hectare area of native broadleaf trees.
We look forward to continuing the development of our international relationships and collaborations in design education.