Past President's Medal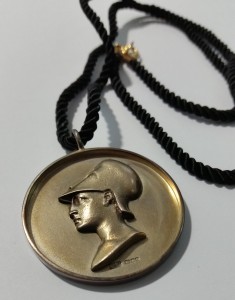 The President of the Society is able to wear the Presidential Medal originally designed by Milner Gray and featuring an embossed head of Minerva with an inscription.
In addition the President is entitled to wear the Presidential chain of office of the British Institute of Interior Design which was formed in 1894 and which was taken over by the Society in 1988. The President may also use the post nominal letters PCSD whilst in office.
The Past President's Medal is a miniature replica of the original Minerva head as used on the Presidents Medal.
It is traditionally presented to the outgoing President at the Annual General Meeting who becomes the Immediate Past President and may use the post nominal letters PPCSD.