09.04.2021
His Royal Highness Prince Philip, The Duke of Edinburgh (1921 – 2021)
Today the Chartered Society of Designers mourns the passing of our Patron, His Royal Highness Prince Philip, The Duke of Edinburgh.
Prince Philip graciously consented to become Patron of Society of Industrial Artists and Designers in 1969 and for the past 52 years has lent his support to the Society's work in achieving recognition for the profession of design.
In a foreword to 'Minerva at Fifty' in 1980, Prince Philip wrote, 'Although design is probably one of the oldest of man's occupations, it was only relatively recently that designers saw themselves as members of a separate profession, but as soon as they did so the Society of Industrial Artists and Designers was born'.
The Duke's commitment to improving the recognition of designers led him to instigate the Prince Philip Prize for Design Excellence in 1959, later renamed the Prince Philip Designers Prize, which was managed by the Design Council until 2011. Delighted that the Society wished to continue the Prize he awarded the management of it to the Society in 2015 together with lending his name to a new award, 'The Prince Philip Student Design Awards'.
Over the years Prince Philip has presented both the Prince Philip Designers Prize and the Society's Minerva Medal to some of the leading lights in design practice, recognising their contribution to design and inspiring those to follow in their footsteps.
Prince Philip was a regular attendee at the Society's Minerva Dinner spending the evening joking and laughing with guests and sharing valuable insights and views on design. In recognition of his contribution to design, the Society awarded him the Minerva Medal in 2003 at a Special Minerva Dinner held at St. James's Palace. On receiving the Medal, the Duke quipped that, 'it was a delight to receive the Medal rather than always presenting them at these dinners'.
It was an accolade he richly deserved for his support of design and the Society over the years. We, at the Society, will miss him greatly.
9 April 2021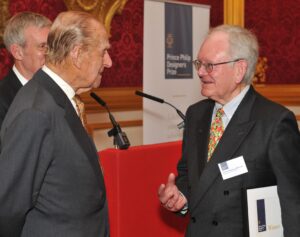 HRH Prince Philip awarding the Prince Philip Designers Prize 2016 to John Makepeace OBE FCSD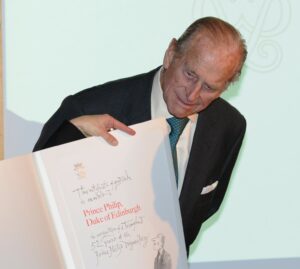 HRH Prince Philip in 2011 receiving a thank you card for 52 years of the Prize. The card illustrated by Sir Quentin Blake FCSD winner of the Prize that year. (Picture Peter Luckhurst)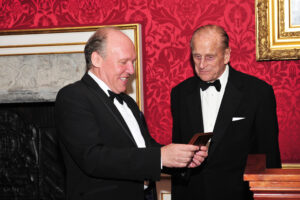 Ian Callum of JLR receiving the 2014 Minerva Medal from HRH Prince Philip at the Minerva Dinner held at St. James's Palace.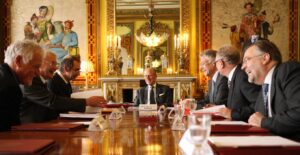 HRH Prince Philip chairing the the judging of the Prince Philip Designers Prize in 2009 at Buckingham Palace.