12.06.2015
CSD Minerva Medal 2014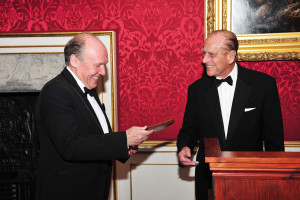 Ian Callum, Director of Design for Jaguar has been honoured by the Chartered Society of Designers with the prestigious Minerva Medal for his outstanding contribution to automotive design.
The Minerva Medal is the highest accolade given by the Society and was presented by the Society's Patron, HRH The Duke of Edinburgh at the Minerva Dinner in St James's Palace in London. The Medal is awarded to a designer for a lifetime's achievement in design and was first awarded in 1955 to Milner Gray, a founding member of the Society. Since then it has been received by some of the greatest international figures in the world of design who have been responsible for so many iconic designs spanning the whole range of design endeavour.
David Callcott FCSD, President, Chartered Society of Designers, said: "The Society is delighted that the 2014 Minerva Medal has been awarded to Ian Callum who has successfully demonstrated the value of strategic design within an organisation. Ian follows in a long list of renowned designers who have all displayed the highest qualities in terms of aesthetics, function, process and innovation. The success of Jaguar Land Rover is testament enough to his design achievements and the Minerva Medal is recognition of them."
Ian Callum said: "Receiving the Minerva Medal and being recognised for my contribution to car design alongside such outstanding designers is a real high point in my career. To have my life's work on display and having the automotive car design industry recognised by such a prestigious society with HRH The Duke of Edinburgh as its patron is a truly humbling experience."
Previous winners have included Sir Terence Conran founder of Habitat, Sir Kenneth Grange FCSD whose designs include the iconic Anglepoise lamp and London taxi and Jeff Banks CBE FCSD internationally acclaimed fashion designer. The Minerva Medal has not been awarded to an automotive designer since 1981, when it was given to the Italian designer Giorgetto Giugiaro.