Denis Mallet
Graphic Design
MCSD
United Kingdom - London
Email address
d.mallet@dmworkroom.com
Profile description

Denis Mallet is a French graphic designer and art director based in London. Denis obtained fine art, graphic design and visual communication master degree from the Toulouse School of Fine Art in France. He has been developing his professional practice and knowledge as a graphic designer in France and Poland before setting up his studio, DM Workroom, in London in 2007.

DM Workroom is a London based creative design studio with a contemporary and multidisciplinary vision. We believe graphic design is a dialogue between the client, designer and the audience. We are interested in brand design and we believe that the most successful work can only be for brands that also share our approach. Brands that are driven to be about individual preference, to be entrepreneurial in their attitude and that esteem the crafted qualities within the products they offer. To these we bring creativity, inventiveness, fresh design ideas, energy, dedication and sensitivity.

Our task consists of analysing the design project brief and solving the problem. We try as much as we can to distil, refine and extract the essential meaning and most important aspects into an objective way. The message and the style it should be presented in, flows out of this process. Having a non-dogmatic view, we solve problems with a personal, insightful and coherent approach. We take our customers' wishes seriously and strive to match them with our own fundamental design and typographic principles, carrying our mark through both flexibility and integrity. This approach is adapted to each client, industry and to every project we undertake.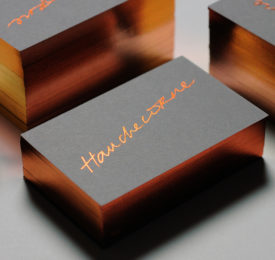 JH Visual identity
Julien Hauchecorne has asked us to come up with a fresh identity and business card design for his new venture as a furniture designer. Julien's logo originated from the combination of his initials and the use of multiple radical triangular shapes. We have also added Julien's handwritten signature to soften and personalise the look and feel. The business card was printed on two different Colorplan papers manufactured by GFSmith. The ebony black paper on the contact detail side of the card is embossed with a subtle Coltskin pattern. A foil blocking technique was used on each side of the sheets before they were duplexed to reach a total of 700 gsm. Once the cards were trimmed to size, we used four different metallic foils, from gold to copper, to create a gradient around them. Each foil has been applied onto each side of the card using a fore-edge printing process.