Philip Whiting

FDIA

Graphic Design

MCSD
Australia
Profile description

Dr. Philip Whiting MCSD FDIA specialises in Design Thinking and Branding bringing together the disciplines of interior, product and visual communication design. He originally worked in the UK as a design consultant to the Institute for Consumer Ergonomics. Major clients have included The Boots Company, Volvo, Shell, 3M/Riker, as well as a number of FMCG businesses. In Australia he has worked with a range of organisations including Lend Lease, Westfield and Stockland.

Philip's design research work has focused on product behaviour and its impact upon consumer behaviour. This work has enabled him to understand and begin to cultivate consumer need using design thinking & branding; to both quantify and more importantly alter the intangible, functional and emotional assets contained within the DNA of a brand.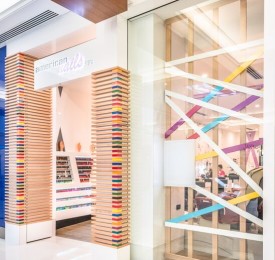 American Nails
American Nails – Nailed it!
Background
The advent and popularity of Nail Bar Salons and Pedicures has created a glut of practical and functional environments that are at best disappointing and often reminiscent of typing pools or even sweat shops.
Our Role
Zeroplus designed a cost-effective shop-fit for American Nails and Spa developing a relatively small space into a visually exciting environment to dramatically improve the overall brand and user experience.
The Outcome
Our structured approach using a Design Thinking process provided the client with a playful design strategy to reposition the brand and strengthen performance for the future.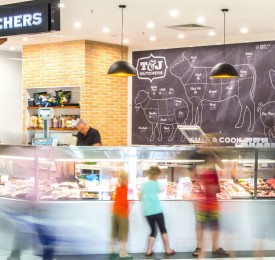 T&J Butchers
T&J Butchers – NEW MEATS OLD
Background
Butchers are an example of a typical saturated retail market sector. A total lack of differentiation makes it hard for customers to identify a suitable outlet that reflects both a clean modern environment and good old fashioned customer service. Every Butcher essentially sells the same range of products, tells much the same story and all with the same experience and lack of engagement.
Our Role
Zeroplus undertook a shop design rebranding programme for T & J Butchers in Westfield Shopping Centre. We defined the brand concept and positioned it in such a way to reinvent the very nature of the butcher outlet. This was achieved through a lively three dimensional design visual expression reflecting the new brand experience.
The Outcome
By mixing the traditional values of personal customer service from the past with the consumer needs and expectations of today, this new brand design has a fresh food attitude. The shop design provides a dynamic yet simplified customer service environment bringing the focus back to efficient and nutritional home cooked meals.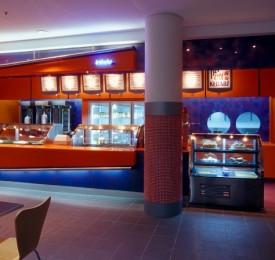 Alkan Kebabs
Alkan Kebabs – It's a Wrap
Background
Alkan Kebabs became a design and branding opportunity to re-define and re-position the nature of Turkish Kebab fast food outlets. The client had a vision of a more contemporary looking outlet that moved away from the more predictable and traditional Turkish theme and culture.
Our Role
We provided the customer with an international & cosmopolitan environment for fast food. We set out to deliberately upset the customers visual equilibrium and appeal to the teen, the student and the young professional.
Outcome
The market for fast food kebabs had begun to mature to the degree where there was now a demand for a quality kebab product and the design had to reflect this as a unique brand concept. In addition, at the time there were many original design features within this design, including cost-effective and low maintenance use of glass partition walls, an energy efficient material both in terms of installation and use.