23.01.2015
Oration by Professor Sir Christopher Frayling FCSD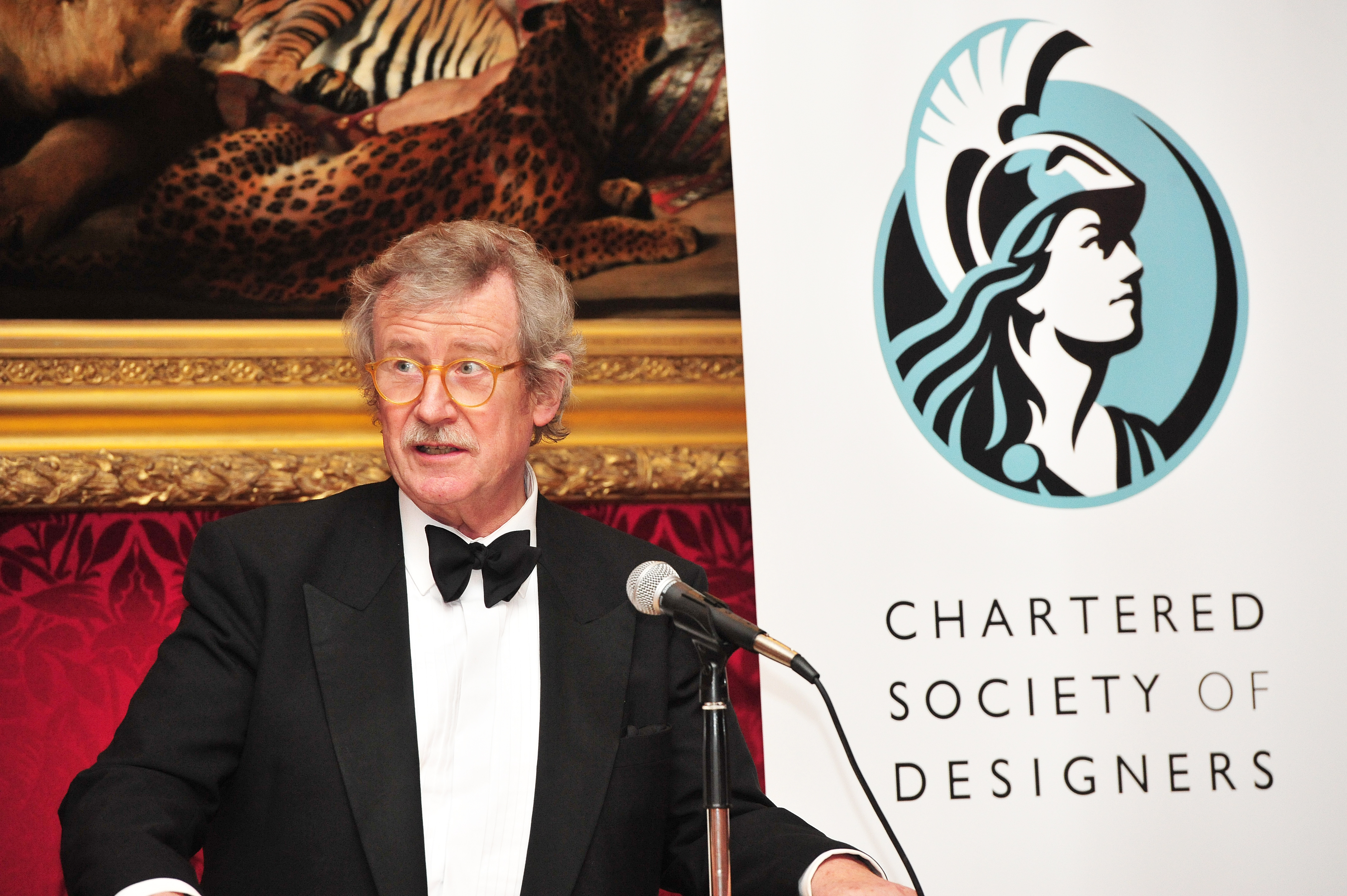 On the 25th November 2014 the Society held the Minerva Dinner at St James' Palace. The evening was a special celebration of the Society and its work and included the presentation of the highly revered Minerva Medal. Over the years it has been received by many who are legends in the design world and this year was no exception with the award going to Director of Design for Jaguar, Ian Callum, presented by the Society's patron HRH the Duke of Edinburgh.
 
The 2014 Minerva Dinner was an inspirational evening for all those who attended; we would like to share with you a special part of the evening, the oration for Ian Callum given by esteemed educationalist and writer Professor Sir Christopher Frayling.
Your Royal Highness, President, distinguished guests, ladies and gentlemen. Let's begin with a seasonal tale. Imagine we are on the edge of a wild wood, and three of its inhabitants—Ratty, Mole and Badger, all dressed in tweeds and sensible shoes—are waiting by the roadside for the arrival of their friend Toad:
        Glancing back, they saw a small cloud of dust, with a dark centre of energy, advancing on them at incredible speed, while from out of the dust there was a faint 'poop-poop!'… with a blast of wind and a whirl of sound that made them jump for the nearest ditch, it was on them! They had a moment's glimpse of an interior of glittering plate-glass and rich morocco [leather], and the magnificent motor-car, immense, breath-snatching, passionate… possessed all earth and air for a fraction of a second, flung an enveloping cloud of dust that blinded them… then dwindled to a speck in the far distance…
Later, the three sensible friends try to talk some sense into Toad, who has fallen in love—with the new craze of motoring:
        'O stop being an ass,' cried the Mole despairingly…
'Toad's going from bad to worse,' said the Rat gravely… 'We'll rescue the poor unhappy animal and we'll convert him!'
'We—' went on the Badger, '—we, that is, you and me and our friend the Mole here—will take Toad seriously into hand… You're getting us animals a bad name in the district by your furious driving,' the Badger explained seriously.
Mr Toad, meanwhile, can only sit in the middle of the open road, with a glazed look on his face, faintly murmuring, 'Poop-poop' over and over again. 'The poetry of motion,' he intones. 'It's theonly way to travel.' He is serious literature's first recorded petrol-head.
When tonight's Minerva Medallist Ian Callum first started studying automotive design—on which he'd set his heart from an early age—he was surrounded by tweedy attitudes such as these. Car design was not eligible for Design Council awards, it was never given the Council's black-and-white triangular seal of approval and it was usually referred to by the Ratties, Moles and Badgers of today as 'styling' rather than design, 'renderings' rather than drawings, the dust-jacket rather than the book itself, designing from the outside in rather than from the driver out. The V&A, then the nation's only design museum, did not stoop to collecting or exhibiting cars—that was for the Science Museum, the techies across the road. The director of the Design Council once observed that if you asked car-owners who had designed their vehicles, they'd only know the name of the company that manufactured them—not the name of the designer. Unless the car happened to be a Mini and he was called Alec Issigonis—and that was ironic because he was an engineer, not a designer.
This was the atmosphere in which Ian Callum first started seriously studying automotive design in the mid-to-late 1970s, at Lanchester Polytechnic, then as an Industrial Designer at Glasgow School of Art, and finally as a postgraduate student in the Automotive Design Unit at the Royal College of Art—as part of a bumper generation which included, among many others, Gerry McGovern—later of Land Rover; Pinky Lai—later of Porsche; Peter Schreyer—later of Audi; and Keith Ryder—later of Peugeot, the generation which showed the world that they didn't just draw snazzy pictures—they designed products.
If this oration was the script of a road movie, the opening shots would be of Gleneagle Road in Dumfries, Scotland, and of the young Ian developing his first taste of design in the late 1950s: as he has recalled, 'the first product I remember being aware of, at a very young age, was our Hoover—and I already thought how very ugly it was [an experience which must surely have been echoed by the young James Dyson, at much the same time]; then I remember seeing a Porsche 356 coupé and thinking how very beautiful it was.' Its flowing aluminium curves, ground-hugging lightweight chassis, vestigial bumpers and sexy, half-hidden chrome hubcaps lodged themselves in his awakening mind, as well they might—as if they were elements in a rolling sculpture. Cut to the starry-eyed, fourteen-year-old Ian writing rather cheekily to the high-ups in Jaguar, in Coventry, in February 1968, enclosing some of his so-so drawings of cars. The kindly reply of the Vice-Chairman has survived:
… Your general conception and ideas are good but it is absolutely essential in all these drawings that you stick strictly to scale—and for this engineering drawing training is necessary and you should endeavour to take this up at school at the earliest possible moment—in such a way that it does not interfere with your other duties.
It is apparent that you intend to enter the design side of the industry in the course of your career and so you would do well to take some art training in due course, as you have obviously a flair for this side of the business but in this free-hand perspective drawing far more emphasis should be shown by the shading and light lines, which is mainly learnt at Art School and not with engineering drawing.
Dissolve—to Ian Callum receiving his Master's degree at the RCA in summer 1979—roughly the time when British Leyland's Austin Allegro was the height of automotive fashion in this country. We follow Ian as he confidently pulls out of the kerb, and moves into the fast lane when he's picked up by Ford—where he spends the next twelve years working his way through the company's design studios—starting with steering wheels—in Britain, Japan, the United States, Australia and Germany, before going into overdrive as design manager of the Ghia Design Studio in Turin. On returning to the UK, Ian joins TWR in Oxford—racing plus engineering—as design manager, where he helps to create several fast cars including the classic Aston Martin DB7, which does much to rescue the brand. Stirred but not shaken by this experience, he goes on to design its successor the very elegant and distinctive DB9. Even Q would be impressed by that one. And then, at the turn of the millennium, Ian joins Jaguar's studios in Coventry as Design Director where, as he says, he sets out to define a new visual language while keeping faith with the brand's bloodline—so that the product will be innovative but can still be recognised without its badge. Car design, he adds, is a matter of practicality and emotion, pragmatism and poetry, function, comfort and passion, of seeing the importance of the unimportant—from literally hundreds of points of view. And seeing it from within the design studio rather than the office. 'Office environments', he wisely notes, 'are generally deadly—not conducive to creativity at all.' Shots of Ian in his beloved modelling studio, or designing in a simple room full of Bruce Springsteen music.
Now, for many people in the early 21st century, car design is a matter of life and death. For Ian, it has always been more important than that—this is a man who secretly collects hot-rods—and he shows this over the next fifteen years as he continues to lead and inspire the design team at Jaguar, producing some of the classiest machines ever to roll off a production line. Our road movie now shows a montage of the R Coupé being unveiled at the 1991 Frankfurt Car Show; the revolutionary RD 6 concept; the all-aluminium XK of 2006, the XF saloon, the XJ luxury saloon, the C-X75 concept vehicle which caused a sensation at the Paris Motor Show in 2010. Then, in 2012, with a roll on drums, the Jaguar F-type, a true descendent of the revered E-type, which justly won the World Car Design of the Year award and which Ian cites as his favourite. It also led to Ian being selected as Top Gear's Designer of the Year—one of the few uncontroversial things Jeremy Clarkson has done. And earlier this year, there was the XE family saloon car. All of which goes to show, I'm sure you will agree, that it would be a calumny if we did not add the Minerva model to his many honours.
Your Royal Highness—you have rightly said that once in a while, designs come along that are truly distinctive—that cause a step-change—and that these designs tend to be the products of anindividual's talent. Well, tonight we are in the presence of one of those rare individuals—a king of the road, if I may call him that in present company. Looking in the rear-view mirror for a moment, over the past fifty years, since 1964, the Minerva medal has only been awarded to two vehicle designers—Alex Moulton and Giorgetto Giugiaro. Tonight makes it a well-earned hat-trick. So let's rev up our engines, accelerate our appreciation, and keep the cameras turning for Ian Callum—as we bestow on him the highest accolade the CSD can offer—for outstanding achievement in the profession of design and for raising its profile. IAN CALLUM.