29.11.2018
Meet the Professionals: Sarah Townsend-Elliott MCSD
In another instalment of our Meet the Professionals series, we spoke to Senior Interior Designer and Architectural Assistant Sarah Townsend-Elliott MCSD who works at NPS Group in London. She told us about how she got into the industry and how she sees design affecting her local environment.
Q: Please introduce yourself!
A: I've been in the design industry for 30 years, but from as early as I can remember I enjoyed planning spaces – not knowing that this would eventually lead to my career.
At secondary school, technical drawing was my favourite subject, but girls were not allowed to study it beyond the third year! I challenged this and passed the exam; the school subsequently removed the discriminatory barriers. It's a proud memory for me.
Q: What made you choose this career?
A: I went straight to art college at 16 and enjoyed a few years exploring every discipline before settling on interior design for my degree.
My dissertation, 'School Environments: The Silent Educator', helped me find my direction. I interviewed the Head of Hampshire County Architects and visited some of their key sites. The enthusiastic way pupils talked about their new schools solidified my aim to work on public sector buildings where design could really make a difference.
Q: What's the most exciting thing about what you do?
A: Living and working in the same community offers a unique perspective on projects. Over the years, my children have used libraries, leisure centres and civic buildings that I've worked on. I love shaping the local environment where I live.
Q: What challenges do you face and how do you overcome them?
A: Much has changed over the years in the public sector. For example, we are no longer in-house design services, but out-sourced in a joint venture partnership. The work is the same, but the method of delivery is different. We have a myriad of project managers from the client and consultants, which means the relationship with end users is now less direct.
However, our company retains many of the core values of the public sector: we profit share with our JV partner on a 50/50 split, support local causes, and offer staff volunteering days. As a national company with over 900 staff, there is also much expertise across the group to draw from.
Q: What are you working on right now?
A: A new focus for me is mental health awareness: I'm one of four mental health first aiders in our office. Many companies are now taking mental health and staff wellbeing seriously as there's increasing awareness of how vital it is. I feel passionate about developing and championing this role for colleagues, clients, end users and as an integral part of design.
Q: What advice would you give to a new designer?
A: Go after your dream and don't stop until you achieve it. There wasn't a job waiting for me: I created it, and after all these years I am still evolving it.
Be passionate, resilient and determined to remain true to your core beliefs. By doing so you will be happy in your career and in yourself – and with happiness comes good mental health.
Sarah's latest project
Leytonstone Library, London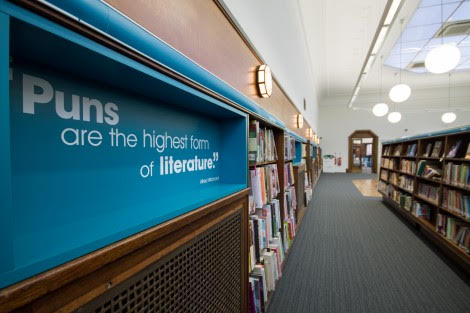 We provided a full multidisciplinary design service for Waltham Forest Council, carrying out major refurbishment at Leytonstone Library.
In addition to creating new bespoke light fittings, restoring the timber and terrazzo panelling, and adding a multi-purpose community space, we also carried out several environmental upgrades such as motion sensors for the lighting.