29.09.2022
Design Student Prize profiles: Interior Architecture & Design Students
Over the summer, we've celebrated graduating CSD CEP student designers across the globe through in-person and online award ceremonies.
The CSD CEP Student Prize is awarded yearly to one design student from each of the CEP design courses who has demonstrated great work throughout their course, recognising their talents and constant hard work.
As part of our celebrations, we're showcasing our talented CSD CEP Student Prize winners and their award-winning work. In this spotlight, we spoke with three Interior Architecture & Design students from the University of Derby, Nottingham Trent University and Sheffield Hallam University about their design approaches and plans for the future.
University of Derby, Gary Dawson Assoc.CSD
Tell us a little about your work:
As a mature student, my work is inspired by my in-industry experiences alongside my passion for creating something tangible yet inspiring.  When it comes to designing spaces, I prefer to work within real-world limitations and briefs, rather than starting from scratch – this enables me to picture what the client really wants and how they'll use the space I'm designing.
One of my favourite projects was a Scout hut I designed during my second year, it had some unusual criteria and needed to serve a wide community, which was something I thoroughly enjoyed. Because I have 20 years of experience in hair and beauty, my design speciality and passion is creating spaces within the retail and leisure sector. I know everything there is to know about how practitioners use sp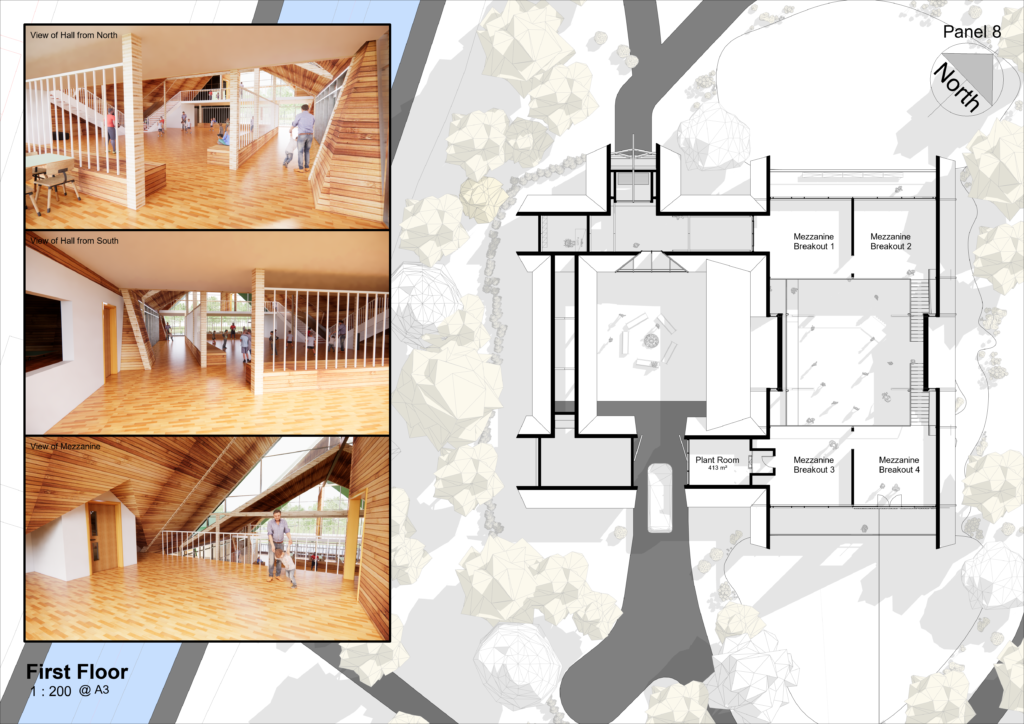 aces, such as spas and salons, and what clients need. So, it feels natural to take these experiences and apply them to Interior Architecture and Design.
What inspired you to become a designer?
I think my love of creating tangible things comes from watching films and asking: "how did they imagine that"?  I always want to create that sense of awe in whatever I generate, be it hair, beauty, or interiors. The hair and beauty sector is very creative – no two people want to look the exact same, they want to feel special – so that really appealed to me. However, due to the nature of that work -nothing lasts for long – in two weeks, hair or nails don't look the same as they did.
After completing every hair and beauty qualification I could, I wanted a new challenge. But this time I wanted to design things that would last longer and hopefully have a bigger impact on communities and spaces.
What does being awarded the CSD CEP Student Prize mean to you?
Winning awards like the CSD CEP Student Prize is really validating, it reminds me that I'm on the right path and that my work 20 years of experience prior to starting this course has added value to my skills as a designer. Throughout my course, I've been proud to receive a number of accolades including the Vice Chancellor's Outstanding Achievement in my first and second years, and now this fantastic Prize from the Society.
What's next for you?
My main focus right now is hunting for a role within the leisure and hospitality sector, I'm really keen to start applying the things I've learnt during my studies in industry.
Where can we find you?
You can find me via the CSD Find-a-Designer here.
Nottingham Trent University May Aboutaleb Assoc.CSD
Tell us a little about your work:
No matter what project I'm working on, my design approach is always the same: focussed on what the client wants and needs. Rather than being guided by my own tastes, I aim to design spaces that really deliver the client's practical needs and vision. Whether that's a creative and artistic space or something more functional, I am always guided by the brief I'm working on.
My final year project centred around transforming a Grade II listed building in Manchester into an archive space. This was a fascinating project, as rather than delivering this work for a client, we were given an object that we needed to create an archive space for. My object was the Walkman, which meant I designed the interior to complement sound and music, using wood throughout to absorb sound and celebrate the building's historic features – blending new and old. I was also keen to make the space as sustainable as possible, so I re-used existing materials and recycled fittings wherever feasible.
What inspired you to become a designer?
I've never considered myself to be a creative person, I'm much more practical and inspired by how people interact with the spaces they live in. I have always loved architecture; however, over time I realised interiors are far more fascinating as we spend 99% of our time indoors as opposed to outside.
Because of this interest, I knew I wanted to study interiors at university, and as an international student, I did extensive research into the very best courses in the UK. I really enjoyed how my course was structured, as I hadn't studied interior architecture before I commenced my studies, so it was a fantastic way to progress from basics such as hand drawings in year one through to more advanced software and designs in years two and three.
What's next for you?
Around my graduation, I was eager to start applying for jobs as soon as possible and I've just accepted a job at a fabulous architectural practice in Birmingham as a Graduate Interior Designer. I'm really looking forward to taking all of my learnings and applying them to real projects in a new city.
What does being awarded the CSD CEP Student Prize mean to you?
I didn't expect to be awarded the CSD CEP Student Prize, so, I was extremely excited when I found out! Outside of my studies, I spent a lot of time on extracurricular activities such as being a Course Rep and mentor, so being awarded this accolade not only makes me feel proud of my work but also all the extra things I was part of over the past three years.
Where can we find you?
You can find me via the CSD Find-a-Designer here or connect with me on LinkedIn.
Sheffield Hallam University, Jessica Smee Assoc.CSD
Tell us a little about your work:
I start each project with a thorough and in-depth site analysis, using analytical, historical and geological research. This information is usually composed into abstract art or a form of medium so that it is easier to compare, understand and digest.
This allows me to better connect to a building and its context, usually guiding the direction of my design proposal. A lot of my work involves intervention by positively changing the perspective and knowledge of a space regarding a topic associated with the site. From installations to set designs, castings to interventions, my aim is to get people to engage more thoughtfully with the building.
Creating immersive, tactile and multi-sensory spaces can widen our imagination and take us into a more childlike state of mind, allowing us to become more accepting of new ideas. I believe this ideology should be used in more spaces, such as offices, to offer diverse ways of communicating by creating informal spaces where ideas can grow and expand more fluidly.
What inspired you to become a designer?
My grandad Pete Hobson was always inspiring to me, he set up his own construction company from a young age. With no higher education, it was his hard work and desire that created his highly successful business that the whole family is a part of. It was an amazing and unique childhood, growing up alongside a construction business, and seeing a building's life from start to finish.
Watching our first home get built was a family affair, I remember playing around with the bricks and materials. Once it was complete, I can recall the excitement of designing my bedroom and choosing the colours and bedding. I used to love going to Dunelm. I believe this is where my passion for design started and where I began to express my identity and ideas.
Studying fine art at school and at A-Level kick-started my design thinking and ethos. My work has always tackled problems in society through abstract art composed using different techniques and skills; from painting to photography and drawing to textiles.
These skills are now transferable to the work I create today and help to create unique visuals and design concepts. A lot of the spaces I have created during my degree aim to evoke new emotions and perspectives for those who inhabit them.
What does being awarded the CSD CEP Student Prize mean to you?

It's an amazing achievement. I have worked extremely hard during my time at university, and I am so pleased to be awarded the CEP Student Prize. My work aims to push boundaries in Interior Design and Architecture, so to be awarded with this Prize feels like an accomplishment, that my work has been acknowledged and its meaning understood.
What's next for you? 
I am actively looking for the right workplace, ideally within Interior Architecture. I have just come back from London where I was shortlisted for the Pushing Boundaries and Interdisciplinary Practice award.
Lots of people enjoyed my work, therefore in the meantime, I am selling some of my artwork as a source of income as I have always wanted to create pieces that could be used in peoples' homes. I intend to do a Master's Degree at the Royal College of Art in London in the future and hope to work in either set design or theatre design. Overall, I am excited about any opportunities within the creative industry, where I can challenge myself and learn new skills.
Where can we find you?
You can find me via the CSD Find-a-Designer here.
Are you an Interior Architecture & Design student?
Individuals who have recently graduated, are in the early phases of their Interior Architecture & Design career or have the required equivalent competencies can apply to join CSD as Associate members. Learn more about CSD Associate membership here.