15.09.2022
CSD CEP Design Student Prize profiles: Nottingham Trent University 2022
The CSD CEP Student Prize is awarded yearly to one design student from each of the CEP design courses who has demonstrated great work throughout their course, recognising their talents and constant hard work.
As part of our CEP celebrations, we're showcasing our talented CSD CEP Student Prize winners and their award-winning work.
This year several students from Nottingham Trent University were awarded CEP prizes including Elise Argent Assoc.CSD and Phoebe Oldfield Assoc.CSD for their work in Decorative Arts and Furniture and Product Design respectively.
To learn more about their studies and passion for design, we spoke with both Elise and Phoebe.
Nottingham Trent University Elise Argent Assoc.CSD
Tell us a little about your work:
My work throughout university has varied significantly, as I've studied a wide range of materials during my Decorative Arts studies at NTU. I would describe the first 2.5 years of my degree as a bit of a stumble in the dark in terms of coming to find my own design style.
Most of my peers seemed to find a material they loved and gelled with very early on, whereas I loved every material and couldn't make any decisions when it came to specialising. During my first year, I worked on two very different projects. Firstly, I produced a complex dynamic three-part ceramic wall piece, with the aim being to learn as much about ceramics as possible in the four-week module. From there, I went on to design a jewellery collection inspired by Nordic navigation systems. I continued this approach into my second year, which is how I came to focus on surface pattern design in my final year.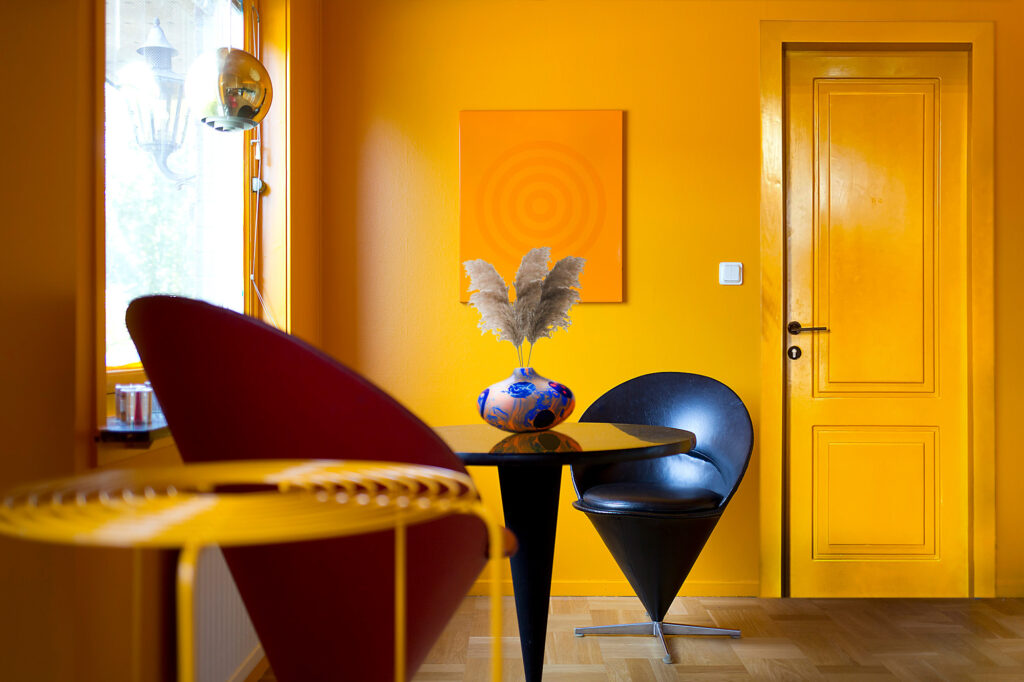 I think having this uncertainty in my own designs and material choices was instrumental in the creation of Liquid Void and finally finding where my work was trying to go. Of course, all designers spend time reflecting -it's a part of the process of making.  However, I don't think many would perform a 180° moving from a textile-based practice to a fully ceramics one with only a few months from graduating! I learnt that my practice must be pushing the limits of materials, it must be bold, colourful, and strange. From all the chaos and confusion 'Liquid Void' came into being.
'Liquid Void' combines all the things I have learnt and love as a designer. It pulls together futuristic ideas of the 1960s, exploring my own personal obsession with space-age interiors and homewares. It explores the historical research of graphic designers also from the 1960s-where they developed psychedelic patterns with Art Nouveau influence- and finally, it's bright and full of colour. I experimented with stained slip-cast porcelain, pushing the material into stacked forms which are fired as one piece.
I believe my time as a surface pattern designer has bled into my work, I experiment heavily with decorative surface techniques and use Illustrator to design my pieces, however, it has evolved into 3D forms which I find to be exciting.
What inspired you to become a designer?
I have always had a love for colour and pattern, but maybe more importantly, I have always loved the challenge of design. There is something about the excitement of a new design brief and the endless possibilities that I find fascinating.
I have been around design my whole life, as my dad has had a variety of clothing and shoe brands over the years so honestly, I think it has just seeped into my brain.
I think my love of a challenge is shown best in my final degree work, as until December of my final year I was a surface print designer, before making the quite dramatic change to slip cast porcelain with only 5 months to go, but that's what inspires me to keep designing, the endless possibilities and the challenge of a new material.
What does being awarded the CSD CEP Student Prize mean to you?
It's an honour. For me, it is a validation of the work I have put in over the last three years. I was a course rep for my entire time at university and oversaw the move to online learning for the majority of this time.
This transition was devastating for my 80% practical course, and it took a lot of energy and patience to not only get myself through it but to also help my fellow students. This award not only celebrates my design ability, but I think it recognises the other skills I have developed in communication and teamwork.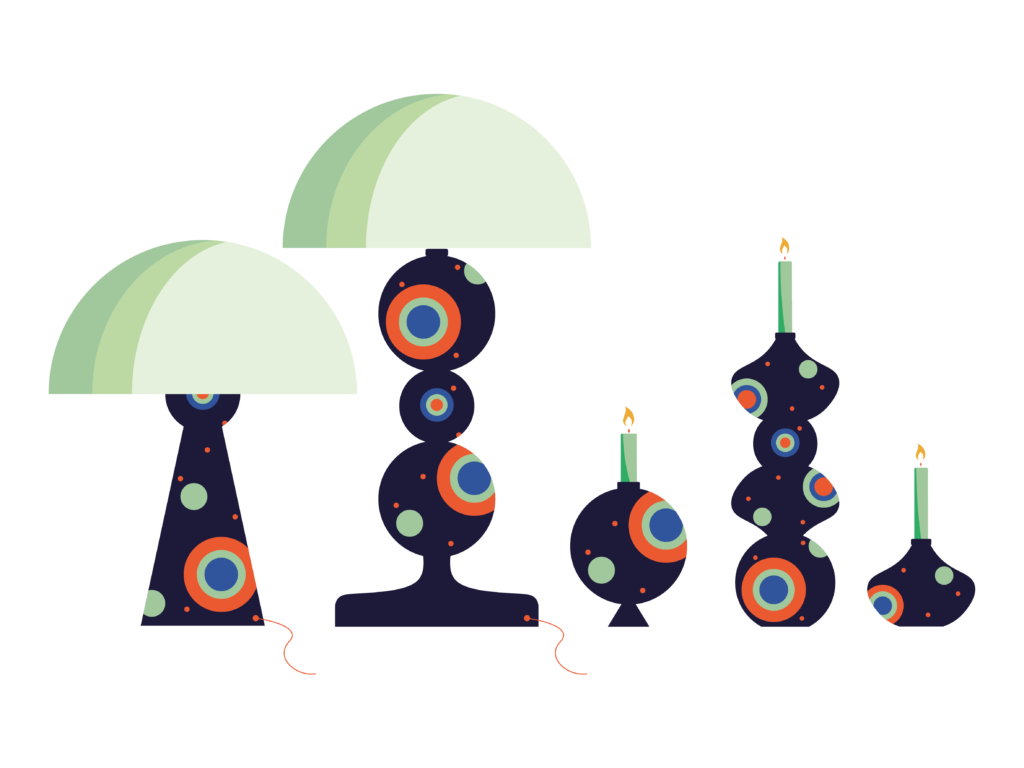 What's next for you?
Ceramics as a chosen medium comes with its own challenges when leaving university. Finding a studio and kiln you can afford is difficult when coupled with moving into the adult world of renting. For my own practice, I would love to keep making, specifically creating a lighting and functional homewares range. This range would give me the funds to carry on my more experimental porcelain work.
Where can we find you?
You can find me via the CSD Find-a-Designer here.
Connect with me on Instagram or view my website here.
Nottingham Trent University Phoebe Oldfield Assoc.CSD
Tell us a little about your work:
Sustainability is at the forefront of my work. I am very conscious of my material usage and sourcing, and the effect that I can have as a designer. I'm very aware of how consumer culture has been nurtured and promoted through product design over the decades. So, I strive to have meaning behind my work, ensuring I'm not designing and creating something for the sake of it. I'm continually learning about how I can be as sustainable as possible with regard to the environment and society.
My work has evolved to be very focused on narrative.  I always aim to have a strong story behind my projects, which mostly concerns the inspiration for a piece or the impact I hope the project will have. During my final year at NTU, I worked on the 'Dendro' side table for Joined + Jointed – which was selected as the winning design for J+J Generations 2022 and will be manufactured by the Sylva Wood School. The inspiration for 'Dendro' came from fractal patterns found in the branches and root systems of trees, along with showcasing homegrown and sustainably sourced timber. I have always had a strong connection with the natural environment, and I find that I often look to nature as a creative resource, both for inspiration for form and materials, whilst simultaneously striving to nurture it.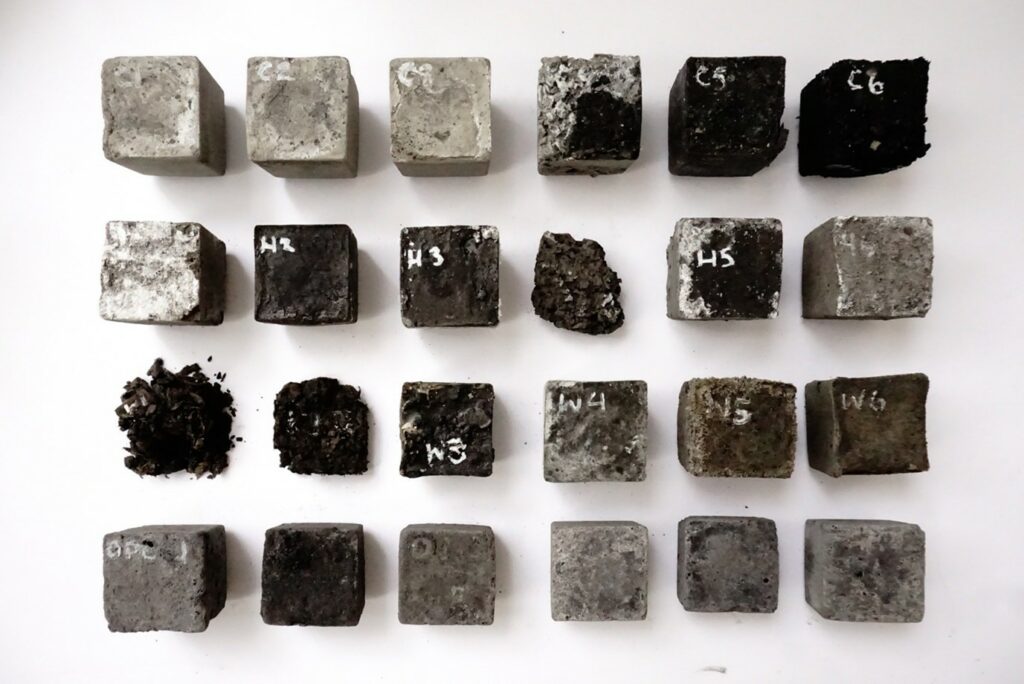 I grew up in a former mining town in the South Wales Valleys and I am very familiar with the visible scarring the mining industry's activities have left in the area.  This inspired me to investigate the potential of using coal mining waste (coal tailings) as a material as 40% of the UK's coal tips are in Wales, and almost 300 are classed as 'high-risk' of causing damage to life and property. The pollution from this waste also has drastic impacts on the environment in which it has been discarded. Within this project, I looked at applications for coal tailings within ceramics, by making earthenware clay slip and substituting some ingredients for coal tailings; initial research had highlighted that the coal tailings are likely to possess similar mineral properties to some ingredients used to make earthenware.
I also investigated using coal tailings in concrete and woodcrete mixtures which became the focus of this project.   I liaised with Specialist Precast Products -a concrete manufacturer in Bedwas, Caerphilly- to begin developing a mixture for concrete and woodcrete made of purely industrial waste products without using Portland cement -as I want to stray away from using cement as a binder- due to the environmental impacts of sourcing this material. I am still aiming to carry on with this project, as I feel it has not yet reached its full potential, and it is important for me to try and find a useful application for this waste material.
What inspired you to become a designer?
I have always been a creative person. From a young age, I was drawing, painting, and building things. I even designed sportswear or trainers that I really wanted! When I came to my GCSEs, I had woodwork teachers who really inspired and pushed me this led me to investigate what options were out there for people like me. My Bampi (grandad) was a carpenter, so it felt quite natural for me to want to continue learning and working with wood, in a creative way, so I decided I wanted to become a furniture designer.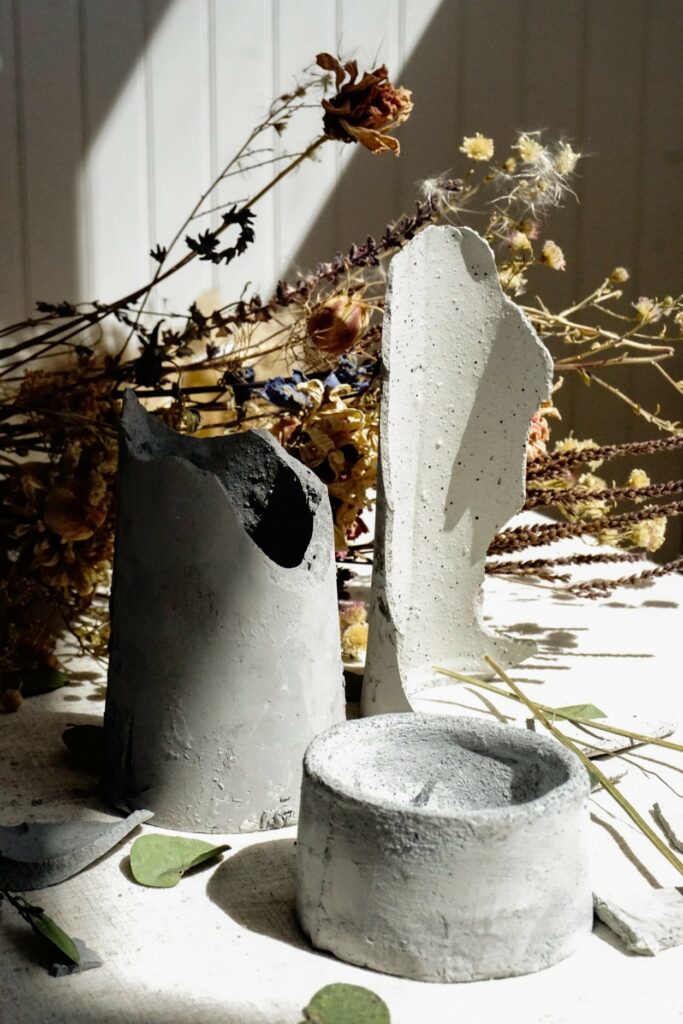 What does being awarded the CSD CEP Student Prize mean to you?
I was thrilled when I found out I was receiving this award. For me, it is an acknowledgement and appreciation for my hard work during my final year and it means a lot to be recognised. The CSD CEP Prize is also a great boost for me as a creative person, it's shown me that my work has worth. I feel very proud to have received the award.
What's next for you?
I want to continue working with natural materials, primarily wood, and build upon my making skills. I completed a placement year during my degree, where I worked as a project assistant at Cwm y Mynydd's Wood LAB Pren – a timber project in Caerphilly County- which aimed to improve the local timber supply chain and circular economy, from forestry through to the manufacture of timber products. I worked on a range of projects and learned many things during my time there, which helped me realise that I want to better understand the timber supply chain and be very hands-on within my design practice.
I have applied to a couple of courses which teach working with wood, using workshop machinery and hand tools, and provide education on how to sustainably source the material and utilise it in the most efficient way. I want to further with my coal tailings project as well, so I will be looking to secure some funding for further research. I'm very excited to see what the future holds for me!
Where can we find you?
You can find me via the CSD Find-a-Designer here.
Connect with me on Instagram or view my portfolio here.
Are you a Decorative Arts or Furniture Design student?
Individuals who have recently graduated, are in the early phases of their Decorative Arts or Product Design career or have the required equivalent competencies can apply to join CSD as Associate members. Learn more about CSD Associate membership here.