13.07.2022
CSD CEP Design graduates from Nottingham Trent University: a year on
The Chartered Society of Designers (CSD) and its key members are preparing for another summer honouring the next generation of Course Endorsement Programme (CEP) student designers. Ahead of celebrating its 2022 cohort, the Society has spoken with Nottingham Trent University CEP winners from 2021 to discuss their experiences over the past year.
The CEP Student Prize is awarded yearly to a design student from each of the CEP design courses. Students who have proven great work throughout their course are honoured with the award recognising their talents and constant hard work.
Last year several students from NTU were awarded CEP prizes including Emily Caswell Assoc.CSD and Julia Parsonage Assoc.CSD for their work in Theatre Design and Textile Design respectively.
To learn more about their experiences since graduating, we spoke with both Emily and Julia.
Design graduate spotlight:  Emily Caswell Assoc. CSD
You were awarded the CEP prize & graduated last year, what have you been up to since then?
Since graduating from university in June 2021, I have been practising my design skills such as model making, Auto-CAD and Adobe software through live performance and editorial design concepts. Furthermore, I have been writing a play for a theatre company I co-founded last year called 'Queer Planet Productions' which aims to highlight and embrace LGBTQ+ artists and narratives.
On a day-to-day basis I work as a Crew Swing for Delfont Mackintosh Theatres, covering multiple West End shows such as Hamilton, Les Mis and To Kill A Mockingbird.
Tell us a little about your university work:

For my final degree project, I was working as a designer on the 'Colour of Love' for the TV Workshop in Nottingham, however, it was postponed shortly after I completed the design due to COVID-19.
The concept given to me by the producer, Nic Harvey, was to create a play based on the 2015 documentary 'Colour of Love' by Colleen Francis. The narrative focuses on the sense of community within mixed-race relationships as well as the significant struggle couples went through to be together. The storyline spans from the 1948 Windrush journey to the 1970s, with a jump to modern-day at the end of the play. Through extensive research, I created a play including concept storyboarding and a finished set, alongside costume, sound and lighting design.
What inspired you to become a designer?
As a child I loved the set design in the 'Santa Clause' film trilogy, I remember saying to my Dad "I want to paint that!". After seeing Sophia Clist's design for 'The Flying Lovers of Vitebsk' by Kneehigh Theatre many years later, I knew I wanted to be a live performance designer. Watching the audience's reaction to the way the set was transformed was the turning point for me, I knew I wanted to evoke that sort of response in my career.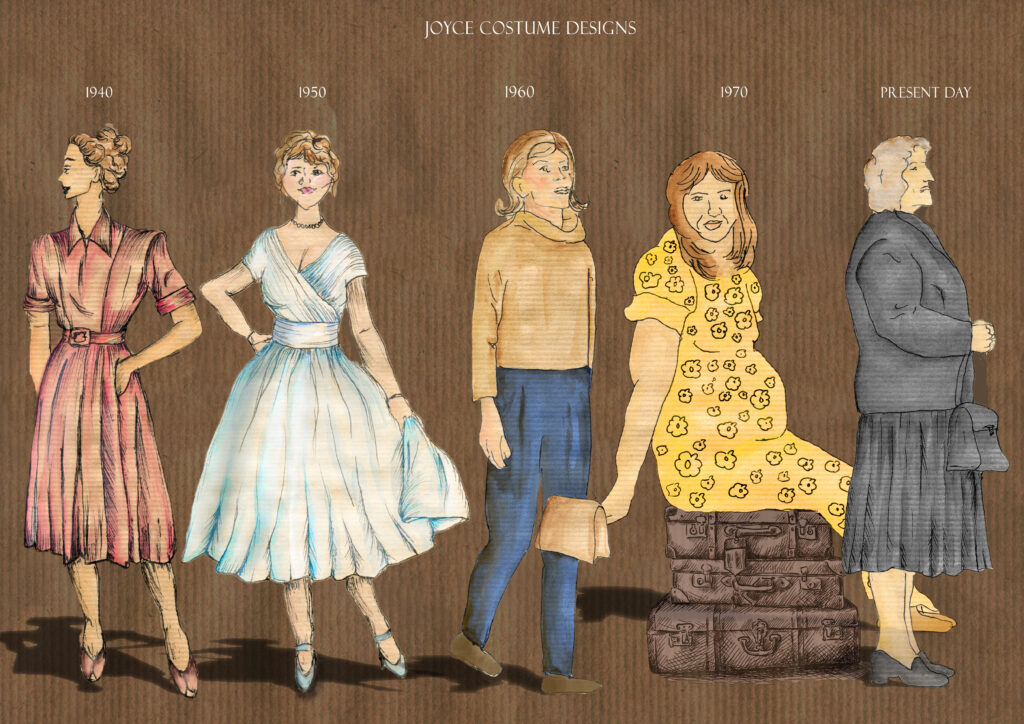 What did being awarded the CEP Student Prize mean to you?
To have been recognised by my university and the Chartered Society of Designers for my work was a true privilege. After winning the CEP prize I became an Associate Member of the Chartered Society of Designers which has opened more doors for me regarding networking and advice.
Where can we find you?
You can find me via the CSD Find-a-Designer here.
Website:  https://emilycaswelldesigns.wixsite.com/theatredesign
Instagram: https://www.instagram.com/emilycaswelldesigns/
Design graduate spotlight:  Julia Parsonage Assoc.CSD
You were awarded the CEP prize & graduated last year, what have you been up to since then?

I took some time out of the creative world to rest and recharge my batteries; I always find this is needed to be reinspired and allows me to appreciate the next design journey more! In November I was lucky enough to secure a design internship at Liberty in London and have been working there since and loving every minute of it. It's been a bit of a surreal couple of months, but I'm embracing every opportunity that comes my way and getting stuck into the wonderful world of print.
Tell us a little about your university work:
My final project was set in the year 2136, imagining what the world will look like if we allow climate change to continue as it is. The aim was to raise awareness of the dangers we face by presenting the viewer with a visual, relatable interpretation of what the future might look like.
Set in a toxic, lifeless landscape as a result of humanity's treatment of the planet, I explored how humans and textiles might evolve, allowing the wearer to respond and adapt to their environment. Taking cues from some of the remarkable adaptations found in nature, I imagined how some adaptations might manifest themselves in a textile context, focussing on material, structure and systemic movement.
The result was an exploratory, multimedia collection in which I used materials in new and innovative ways; exploring new ways of printing and reimagining how they might be used adaptively. Scrap plastics, metals and rubbers were deconstructed and reconstructed to give new purposes and I used systems like magnets to create an ethereal sense of movement. I loved experimenting with materials and exploiting their properties.
What inspired you to become a designer?
I've loved drawing and designing for as long as I can remember, but I distinctly remember the first time I walked into the Textiles room at my secondary school and thought: "wow, this is what I want to do!" It was a beautiful room in an old Georgian building, filled to the brim with vibrant colours and texture, my teacher at the time, Miss Bennett, was incredible in inspiring my love of textiles which has only grown since. I also have to mention my Sixth Form art teachers Mrs. Gardner and Miss Herbert who inspired me to think in new ways and brought my love for mixing materials and design to the surface.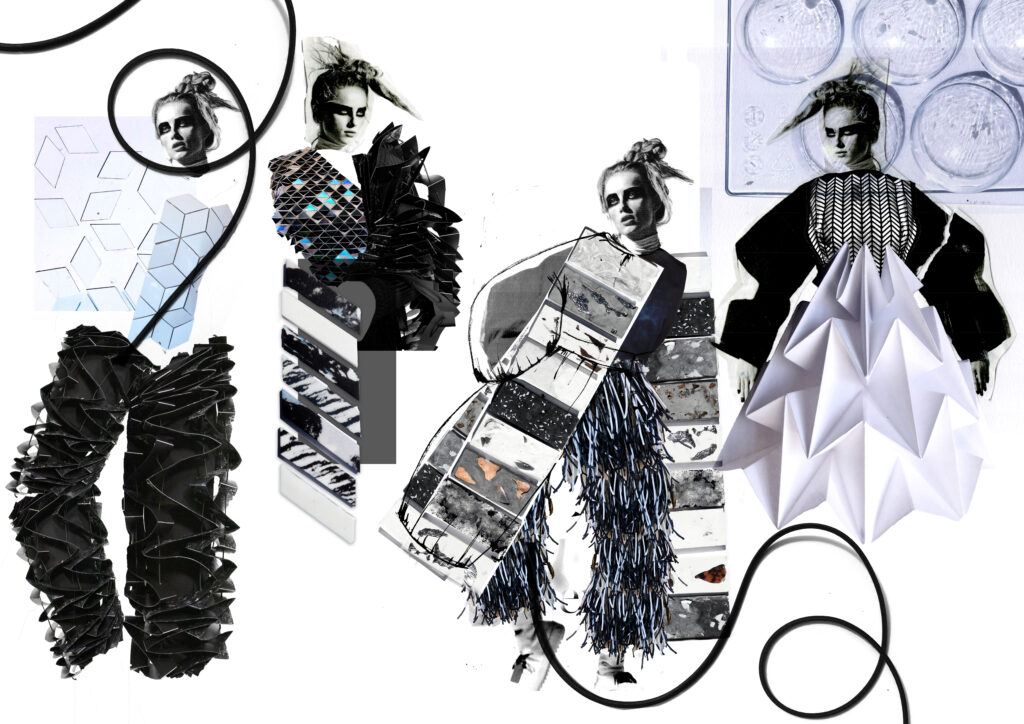 What did being awarded the CEP Student Prize mean to you?
In an exceedingly challenging year, winning this prize meant the world to me. It reinstalled a faith in myself that I had begun to doubt during the year and marked a shift in how I viewed myself as a student to believing in myself as a capable textile designer. To have my work recognised in such uncertain times was a huge honour, especially considering the incredible collections created by my peers. I feel incredibly lucky and excited to use all the benefits that come with winning the CSD prize!
Where can we find you?

You can find me via the CSD Find-a-Designer here.
Website:  https://juliacparsonage.wixsite.com/portfolio
Instagram: https://www.instagram.com/juliap.studio/
LinkedIn: https://www.linkedin.com/in/julia-parsonage-601886156/
Are you a design student or graduate?

Individuals who have recently graduated, are in the early phases of their design career, or have the required equivalent competencies can join CSD as Associate members. Learn more about CSD Associate membership here.