26.09.2018
CSD at the London Design Festival: Design as a Force for Good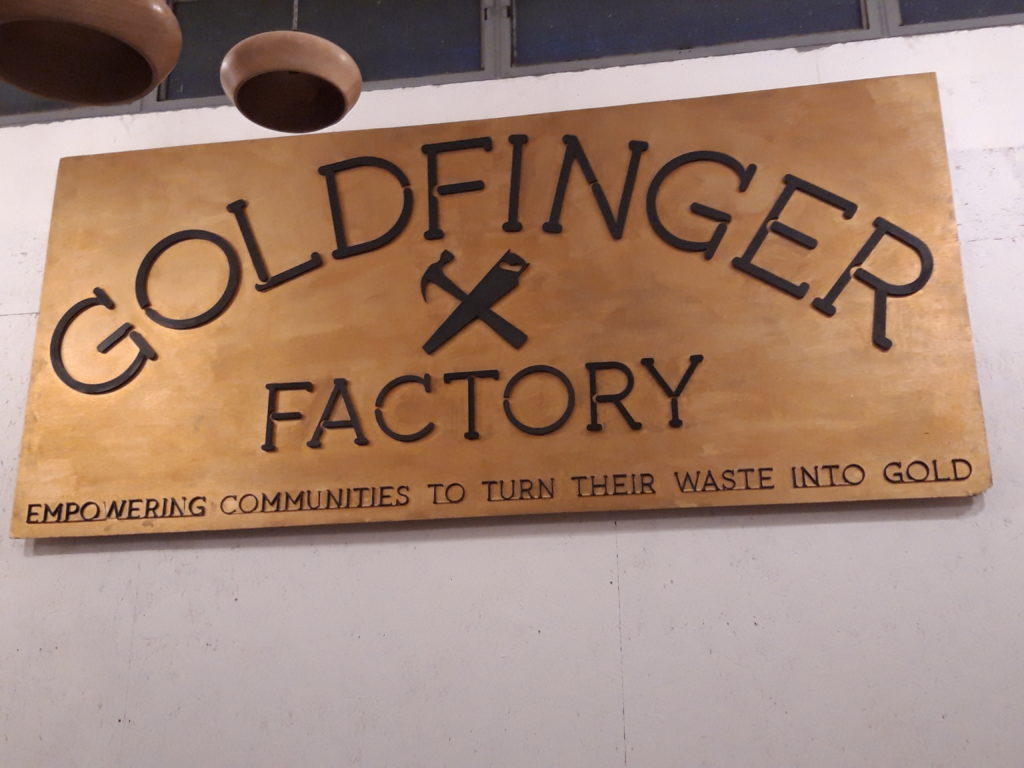 Hosted by the Goldfinger Factory in Westbourne Park, this event explored the ethical implications of design and how it can be used to make the world better.
The panel discussion included five people from the design world with an interest in social enterprises, ethics, and sustainability: Bertrand Michaud, Managing Director of Hermès in the UK; Alex Michaelis, cofounder of Michaelis Boyd; Ben Thomas, John Lewis Partnership; Flore de Taisne, cofounder of ISHKAR; and Marie Cudennec, CEO & cofounder of the Goldfinger Factory.
The conversation was facilitated by CSD member Stephen Philips MCSD, Global Product Design Lead at ARUP – a multidisciplinary building design and engineering firm.
Large companies and sustainability
As there were representatives from John Lewis and Hermès, there was an interesting conversation on how big businesses address sustainability.
Mr Michaud explained that craftsmanship, creativity, and quality are at the heart of Hermès' products (all of which are made by hand). They train 250 new craftspeople every year to keep those skills alive, and the company also invests in good causes in the UK – especially those headed by young, talented and energetic people.
Similarly, Ben was asked about how ethical projects worked at John Lewis, which is employee-owned. The short answer was that if an employee was passionate about something, there was generally a way to achieve what they wanted. Plus, because the company's constitution stipulates working within communities, a lot of projects are done with social enterprises like the Goldfinger Factory.
Social enterprises
The Goldfinger Factory and ISHKAR are both social enterprises that build up communities and focus on creating high quality ethical products, and the cofounders of both companies explained their processes.
ISHKAR's aim is to change people's perception of war-torn countries like Afghanistan, Mali, and Somalia by showing them the value of the craftsmanship that exists there. Rather than bringing anything external into those communities, ISHKAR helps the local craftspeople to grow organically by introducing them to the international market.
Meanwhile, the Goldfinger Factory was set up to show that capitalism can be a force for good. It is a premium design brand that uses waste materials and trains 18 to 29-year-olds to become crafts people. These trainees then go on to full-time employment. For them, waste is a resource in the wrong hands; society simply hasn't found a use for the materials yet. Their mission is to change people's perception around waste.
Eco-friendly architecture
Architect Alex Michaelis explained that the biggest problem in his view was the waste that comes with demolishing buildings. He is trying to change the philosophy of the industry from demolition to deconstruction, but admitted that it can be difficult to persuade people to buy into that. His company re-uses materials, as for them it's about treating every material as precious.
There was then a Q&A covering issues such as accessibility in terms of financial ability to buy ethical products, whether Goldfinger's model could be reproduced in other places, and how built-in obsolescence should be phased out.