13.07.2015
CEP Student Prize Winners 2015
The CEP Student Prize is awarded annually to a final year student on each of the design courses within the CSD Course Endorsement Programme (CEP).
The programme was developed to differentiate and support those courses which clearly prepare students to confidently embark on a career in design and to practice to the highest professional standards.  
The Prize is awarded to a student who has demonstrated exceptional work throughout their course. With such fierce competition and an extremely high standard of work demonstrated by all the students on the CEP courses choosing just one winner can be a challenge.
This year the Society presented 14 Prizes across the UK, to the Accredited and Recognised courses at Chelsea College of Arts, Derby, Nottingham Trent, Plymouth & Sheffield Hallam Universities. The Awards are presented at the opening night of the Degree Shows by esteemed members of the Society.
Congratulations to all the students who are successfully graduating this year, the Society is pleased to announce the prize winners from 2015.
CEP Student Prize Winners 2015
Chelsea College of Arts
FdA Interior Design
The award was presented by David Callcott PCSD President of CSD
The winner was Nadezhda Son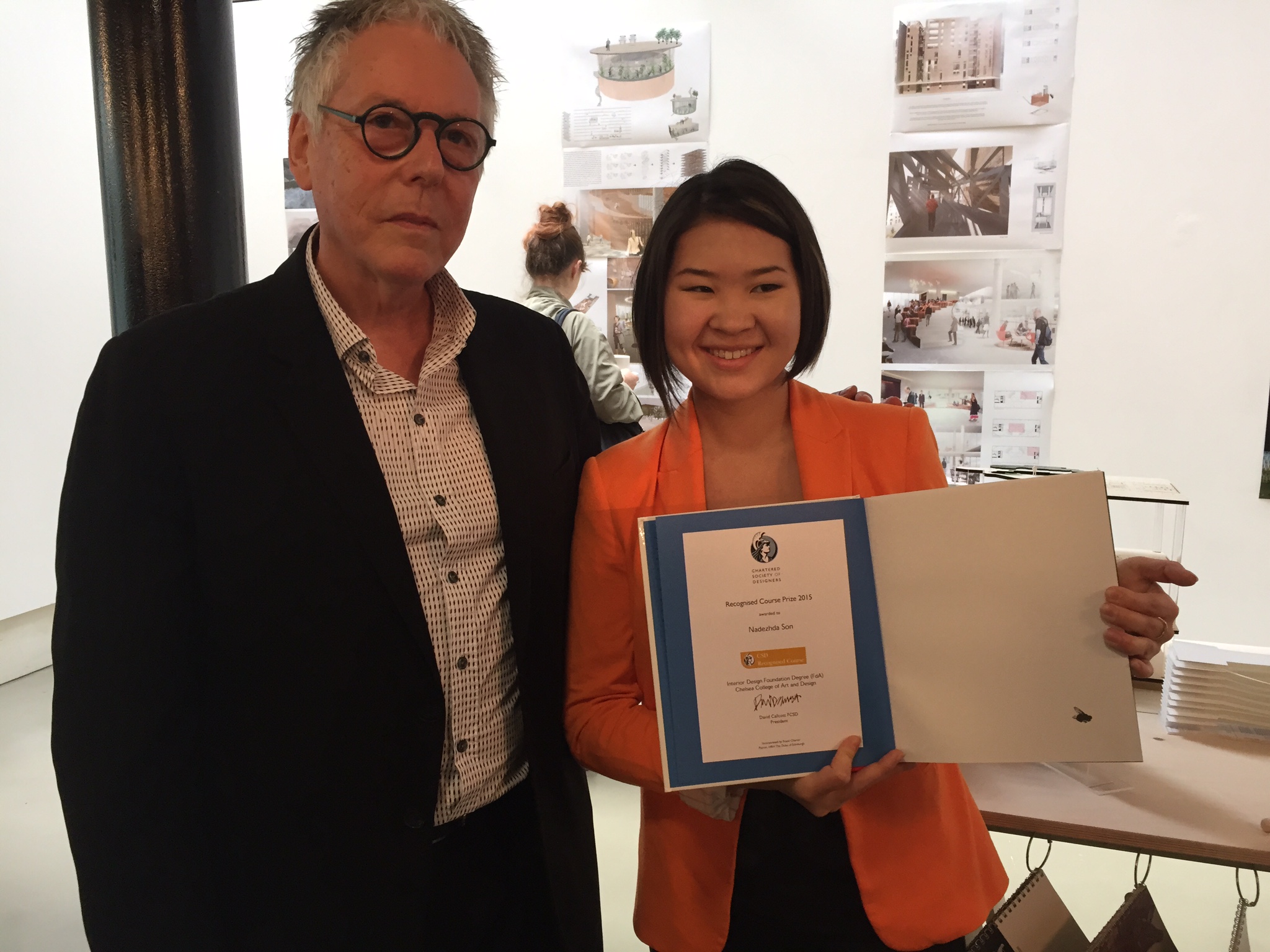 "I always knew I would be an architect or an interior designer. At a young age I tried myself in arts school and really enjoyed it. A few years later I had an opportunity to study design basics in the USA and Italy; however I was still unsure  how to manage a project. It is only after spending 2 years at Chelsea College of Arts in London I feel confident about what I am doing. If before I had just the skills, now I have an understanding of the whole design process and can manage a project from start to finish. Obviously, I still have a long journey before me to explore my potential, self-development is what inspires me, I find the challenges which Chelsea College of Arts has put me through, have improved all of my skills, from communication and leadership to digital and 3D computer programmes.
If I could give some advice to future design students, I would say: work hard and push your boundaries further; find something you are particularly good at and enjoy and keep developing in that direction. Do not get upset when you see somebody's amazing work, which you think you do not have the same abilities, on the contrary, get inspired by it and be glad that you found something that you could improve in yourself."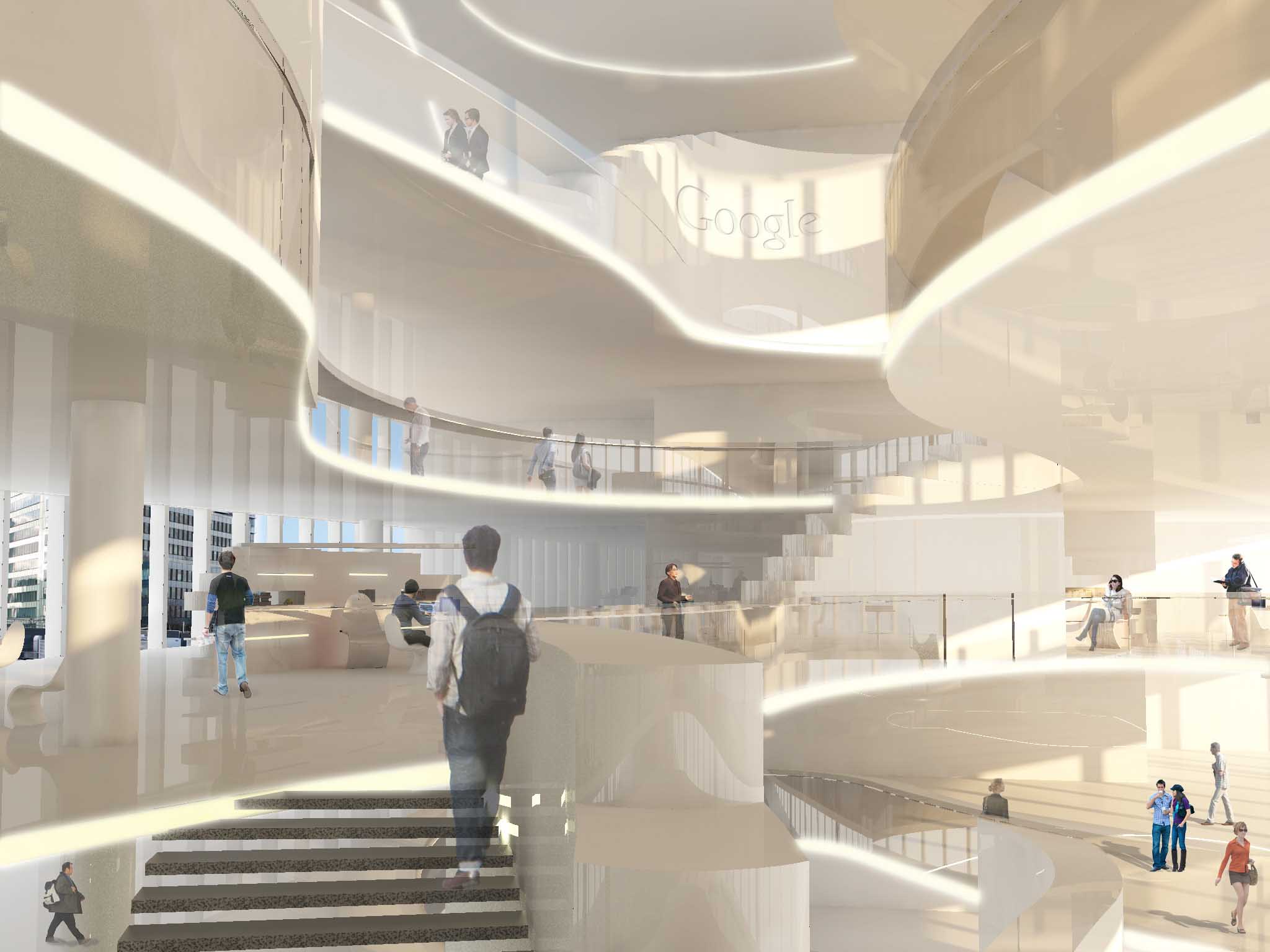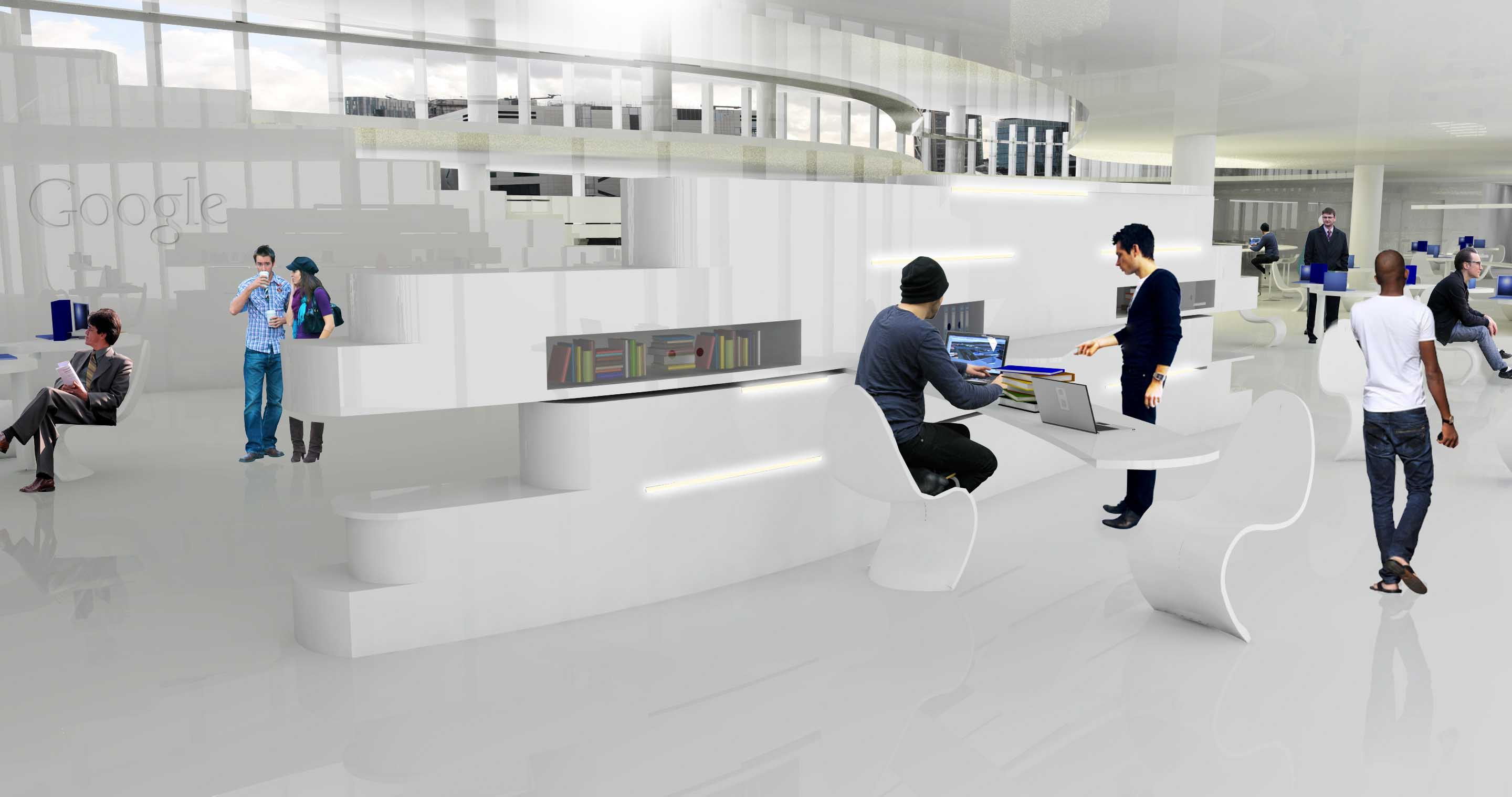 Above we can see Nadezhda's concept for 'Google Office' in 10 Finsbury Square building, London. The aim was to break through uniform floors and create a more dynamic, interactive and comfortable environment. She based her concept on the transition of outside curviness of the building into its interior. She created the voids that would connect all the floors with different activities; designed "moving walls", pieces of furniture that add changeable and interactive units to the space; and continuous ladder that bonds everything together.
Derby University
BA (Hons) Interior Architecture and Design
The award was presented by Anna Amin MCSD, Senior Interior Designer at CPMG Architects
The winner was Tomas Gurcinas
"I have always been a visual person with an acute attention to detail. With 7 years of experience as a carpenter/joiner I learned the importance of simplicity and build-ability. This background in construction has influenced my designs – I look more closely at the core functionality and aesthetics. As a mature student at the University of Derby I found that sustainability has been a great inspiration to my work. 
I have a creative and open minded attitude in everything I do and always enjoy a new challenge. During my studies I took on a one year placement in industry where I gained a lot of practical knowledge and improved my skills, which I strongly believe will help in my professional carrier. After a graduation I plan to continue this Professional Development and hope to run my own business providing architectural design services.
My words of advice to students just starting out, I encourage you to stay unique and follow your heart. Find what you love the most and put your whole soul into it. If you have not found it yet – keep looking don't give up, do not live someone else's dream."

Project by Tomas Gurcinas: Redevelopment of the Sadler's Square Conservation area in Derby City Centre.
Nottingham Trent University
BA (Hons) Furniture and Product Design
The award was presented by John Benson MCSD, Co-founder and Design Director of Stocks Taylor Benson
The winner was Oliver Priest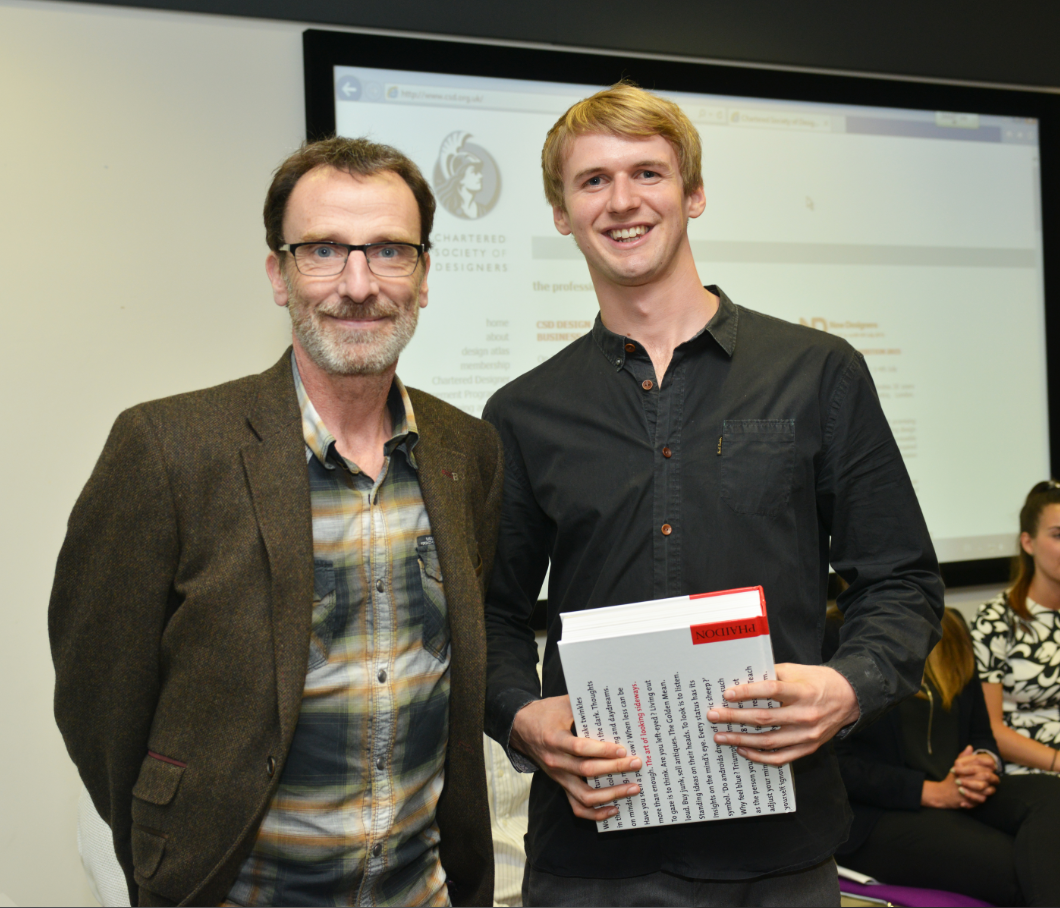 "Art and design has always been central to where I find inspiration and passion in life. Studying this subject has led me to travel all over the world and a particular favourite of mine is the United States. Having completed a one year work placement for a California based, global fashion retailer I have recently been offered a career at the same company beginning in September. The multi-disciplinary skill set I have been subjected to while studying Furniture and Product Design at NTU has prepared me to take on the vast variety of tasks which the creative industry requires, including: hand sketch development, three dimensional prototyping and computer aided design as well as the the ability to feel confident in my public speaking, and presentations to achieve an overall positive approach to any project work.
Throughout this journey of completing a degree I have strived to give to my work my whole hearted commitment. To anyone approaching the study of design, my advice would be to trust your instincts, push yourself outside your comfort zone and whatever it may be, go for it and know that no matter what happens you've given it your best effort."
Projects by Oliver Priest above, 'Shaker' style hand crafted chair prototype constructed using both seasoned and green timber. Drawing upon traditional joining methods, this project sought to explore the difference in visual qualities that Ash and coppiced English Hazel have, to then capture in subtle details of design.
'Swing' Lamp is a modernist inspired floor standing, living space or office task light. The Frame is constructed using stainless steel and features a moveable aluminium ball and socket joint. This allows the light to be adjusted fluidly and will rest in balance wherever you place it.
BA (Hons) Graphic Design
The award was presented by Gareth Wyld MCSD, Graphic Designer and Consultant
The winner was Cairo Hamilton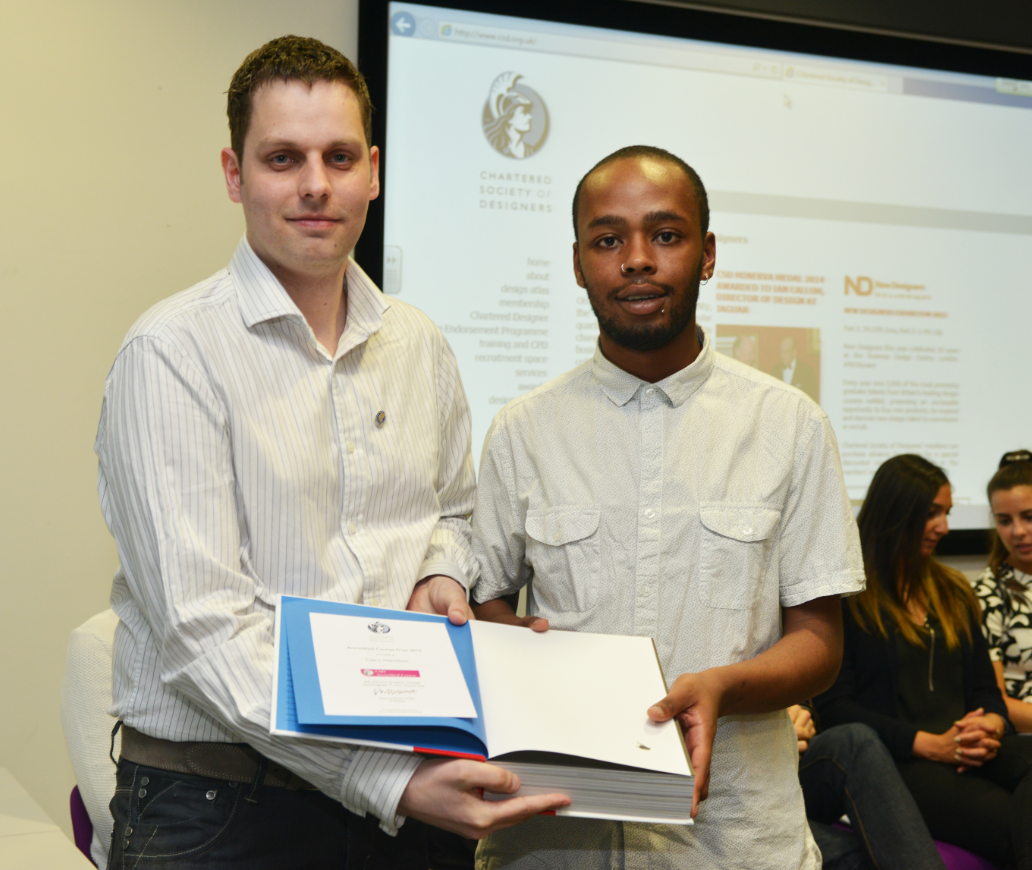 "I have always wanted to pursue a creative subject and always liked the idea of being able to share emotions and communicate with different people from all walks of life through Art & Design; however, it was not until I finished my GCSEs that I knew for sure Graphic Design was the career path I would take. As a Graphic Designer my main strengths are idea generation and the ability to embody abstract concepts. I also pride myself in being a designer with a social conscience, I utilise resources effectively and always consider the impact my work has on the environment and the influence it can have on others in different social settings. After graduation I intend to move to London where I'll be working at Waitrose HQ in Bracknell with their graphic team working on branding and packaging. Over my time at NTU the most valuable thing I've learnt is to always be yourself."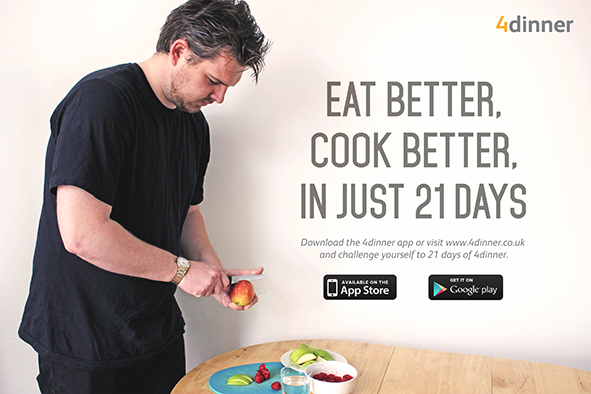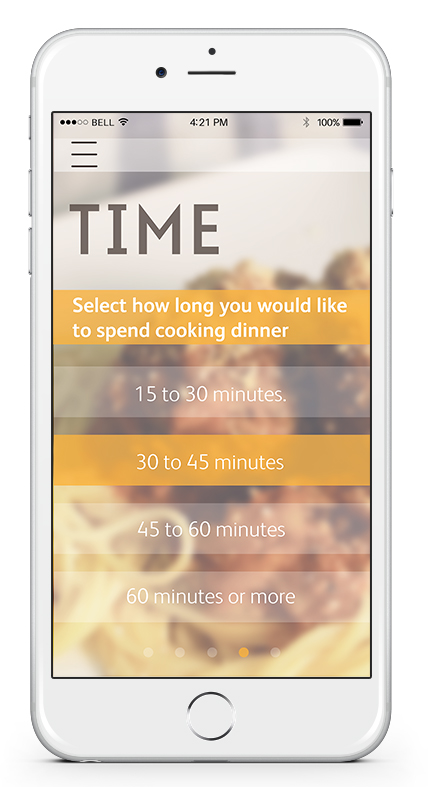 Project above by Cairo Hamilton '4Dinner' advertising campaign and time search filter (winner of the RSA Student Award)
BA (Hons) Interior Architecture and Design
The award was presented by Cristina Reily MCSD, an NTU graduate and current Interior Designer at CPMG Architects. 
The winner was Michael McPheat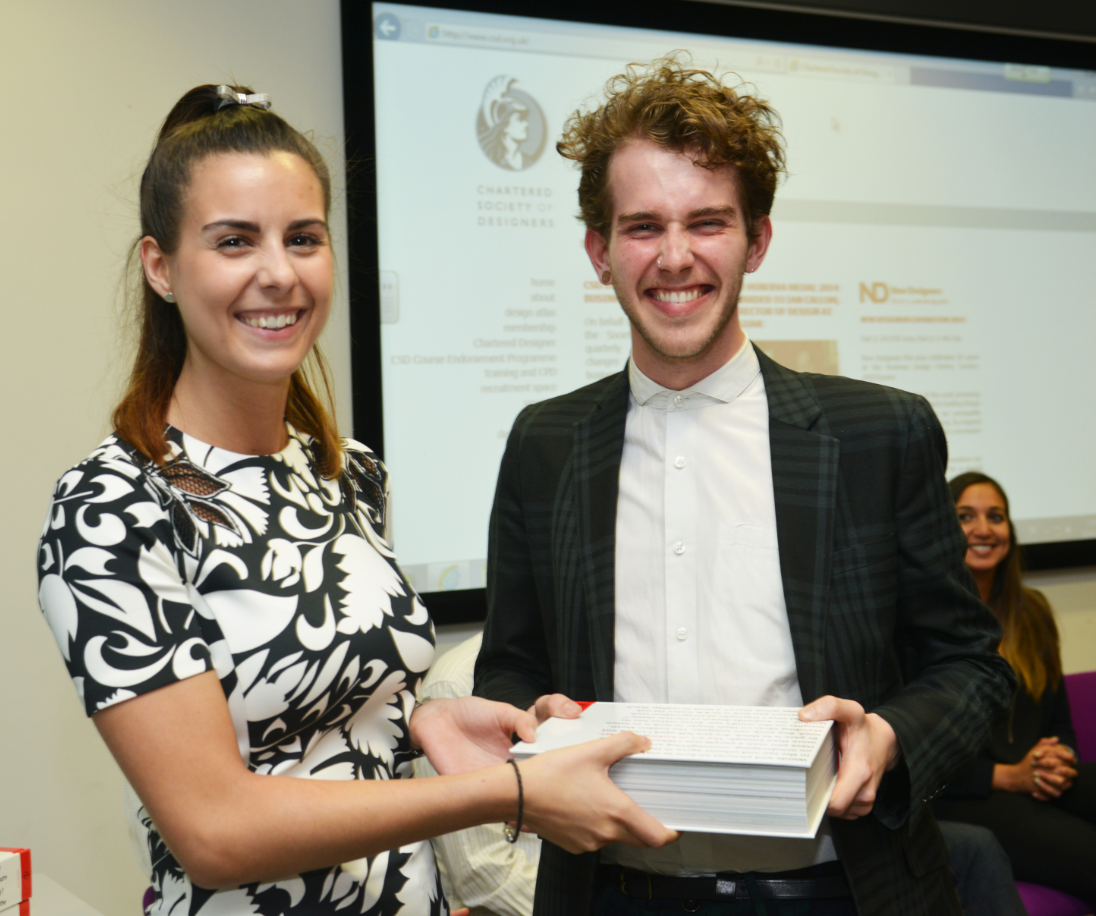 "Since my childhood I have always enjoyed drawing and making.  Later on, it was an art foundation that truly fuelled my passion for sculpture, spatial installations and essentially my skill of thinking alternatively and conceptually. NTU has taught me to think for myself and to focus on my style as a designer. I always manipulated the brief, which ensured that my projects would stand out from the year group. Since completing my final year, I have secured a job as a junior designer at Dalziel + Pow Design Consultants in London. In the long run, I hope to study an MA in Architecture and one day hope to start my own practice.
For any aspiring designer, I would advise them to be open to inspiration from ANYTHING. Step away from stale design blogs and go outside and look at works of art or pieces of natural history. It's these ideas that will set you apart from the people who stay indoors, tapping on their laptops. I would also advise to ask for criticism in your work – a lot of students suffer because they dislike hearing what could be improved in their project, resulting in a process that sees no peaks or troughs."
Projects above by Michael McPheat from the 'Penrose Series', this project was aimed at producing a visual that communicated a personal style. Works that are illusory and command the user to look further into a piece fascinate me. This hand drawn piece was inspired by the Penrose stair, or the 'never-ending' staircase, combined with my experiences travelling, communicated in a style similar to Denis Andernach; a big influence of his.
The second visual is from Michael's Final Major Project, where he developed a disused Victorian fort in Somerset into a chapel and body disposal facility. The visual displays the initial waiting room before the service. Rammed concrete walls extend from the existing masonry, echoing the sedimentary texture of the existing landscape; pools of sunlight flowing through the roof interventions, evoking a spiritual and calm atmosphere.
BA (Hons) Product Design
The award was presented by Andy Bell MCSD, Industrial Designer at Renfrew Group International
The winner was Josef Burnham
"I have always been passionate about design, especially regarding the way in which designers can influence the world to make tasks easier and create opportunities. As a designer I feel I have developed both personal and academic skills during my time at NTU. My placement at DS Smith offered me a wealth of insight into packaging, which was a platform to build on for my project shown below. I believe the skills and knowledge I have acquired during my time at NTU can be used to develop my design career. I hope my final year projects will be further pursued and implemented within their industries. If I were to offer any advice to aspiring designers, it would be to understand the importance of user testing and following an organised design process."
Projects by Josef Burnham above, 'Enviro' transforms the design process of the packaging industry. This project investigated the typical design path for packaging, identifying an opportunity for companies to design with pallet efficiency in mind. Changing the design process, to consider secondary packaging before primary packaging, results in colossal eco and logistical savings.
'Loop' is a revolutionary digital receipt system, designed to reduce the use of paper receipts whilst improving efficiency at the point of sale. This project encompassed the expertise of leading figures within the retail, food and leisure industries to ensure the product excels. The UK currently consumes 11 billion paper receipts per year, it's time to change.
BA (Hons) Decorative Arts
The award was presented by Anna Amin MCSD, Senior Interior Designer at CPMG Architects
The winner was Gemma Lodge
"My inspiration as a designer is to change the way we look at recycling through form and function. After graduation I intend to set up my own business as a sustainable glass designer / maker. Throughout my 3 years studying Decorative Arts I have gained the knowledge I will need to set up my own business. For those who are thinking of doing a design focused degree, it is hard work but very rewarding."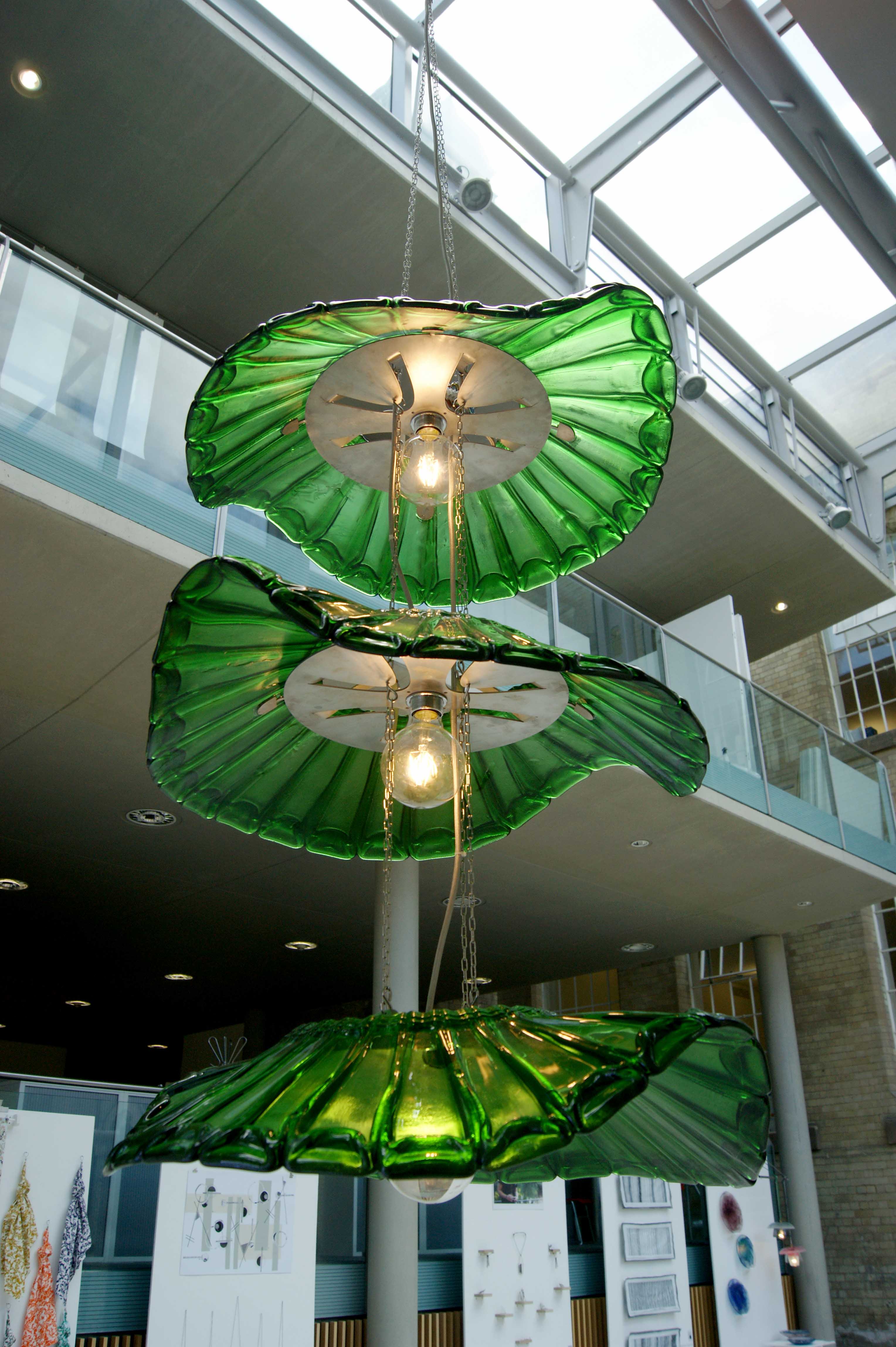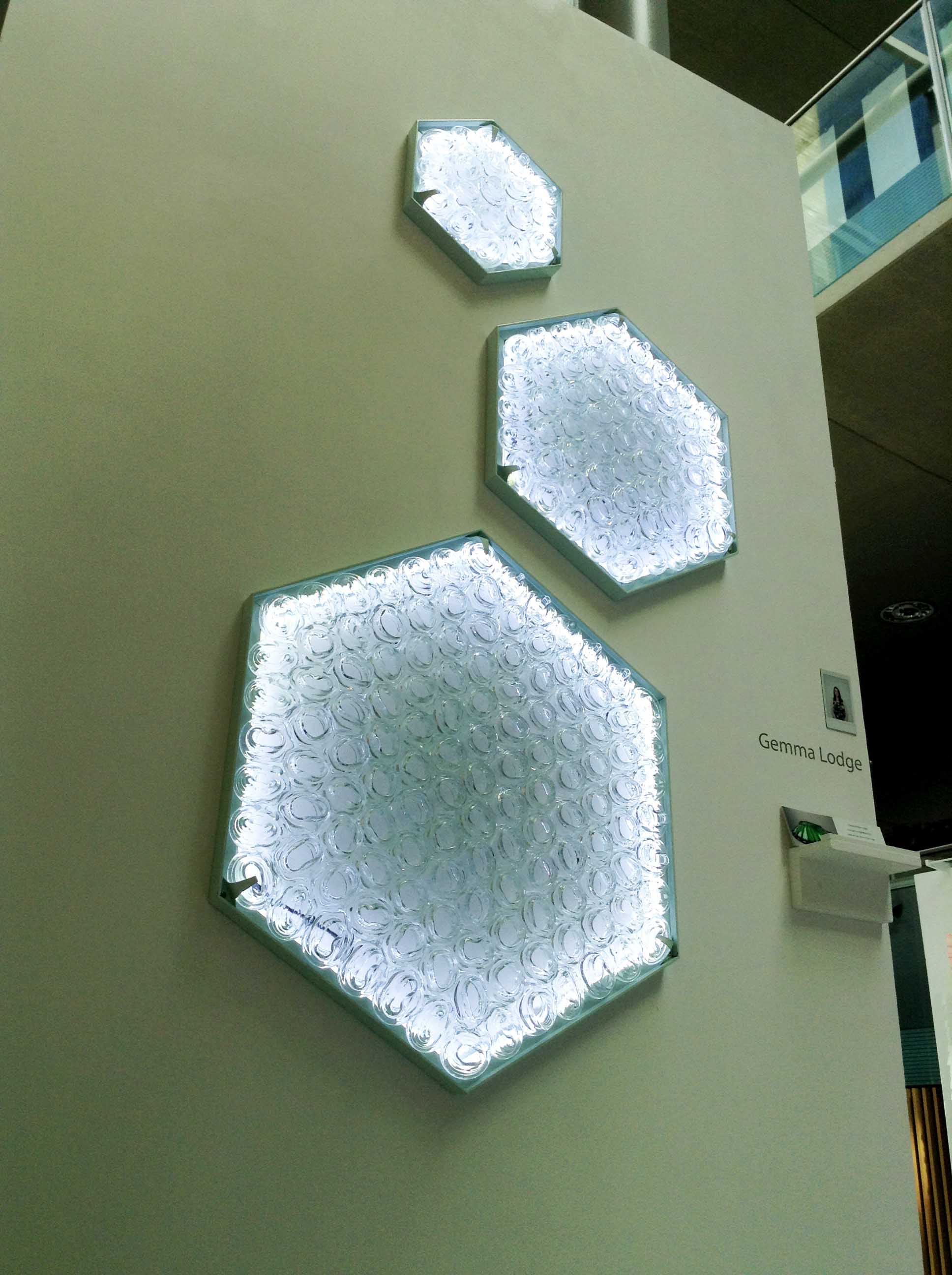 Projects by Gemma Lodge: 'The Chandelier' is made out bottles and with the use of LED Globes.'The Hexagons' are made out of jam jars and with the use of LED Strips.
BA (Hons) Textile Design
The award was presented by Michelle McGibbon MCSD, Design Development Director at Stocks Taylor Benson
The winner was Nichola Woolmer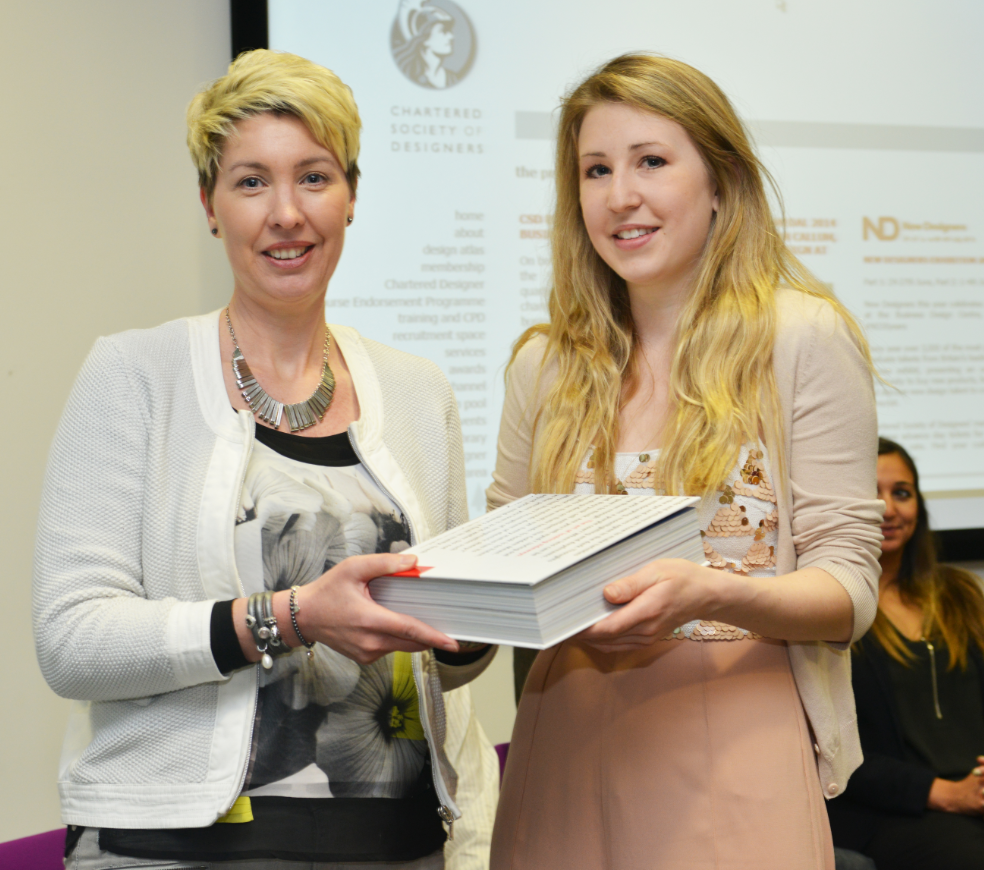 "My inspiration to draw and design has always come from my surrounding environment; as a child I loved to explore different techniques and processes through play and as an undergraduate through experimentation, capturing different textures and imagery across a variety of media. The design world has always fascinated me and I have constantly dreamed of being a part of it. 
Whilst at NTU I have had the opportunity to grow both as a designer and as an adult. Confidence is key to creating a collection which is strong and successful and one of the most important lessons I have learned is create work that I am happy to present as my own.  As a student I have had the privilege of working with some of the most inspiring tutors, who have encouraged me to think outside of the box, be creative and to thoroughly explore my chosen concept. After graduating this July, my aims are to keep developing my own collections as a designer; I want to develop my own identity within the design world by producing small collections for homeware and fashion, through freelancing and collaborations. I understand that this takes a lot of time, energy and money and I am keen to develop my industry knowledge further, I would love to find a job within a design company that would push me further as a designer.  
My advice for future design students: do not give up! To make your dreams come true it requires a lot of hard work, time and energy but for something you love, that isn't too much to ask. Keep going, experiment, have fun, do the unexpected, it will take you on a far more exciting journey."
Projects by Nichola Woolmer above, 'Diffusion' and 'Transition' these projects explored the concept of light travelling through its structural surroundings, creating a mark of light as it goes. The designs explore the density of line and texture combined with open space to create shadows and silhouettes.
BA (Hons) Theatre Design
The award was presented by Chris Ramsden PPCSD, Industrial Designer, Honorary Treasurer and Trustee at CSD
The winner was Maia Green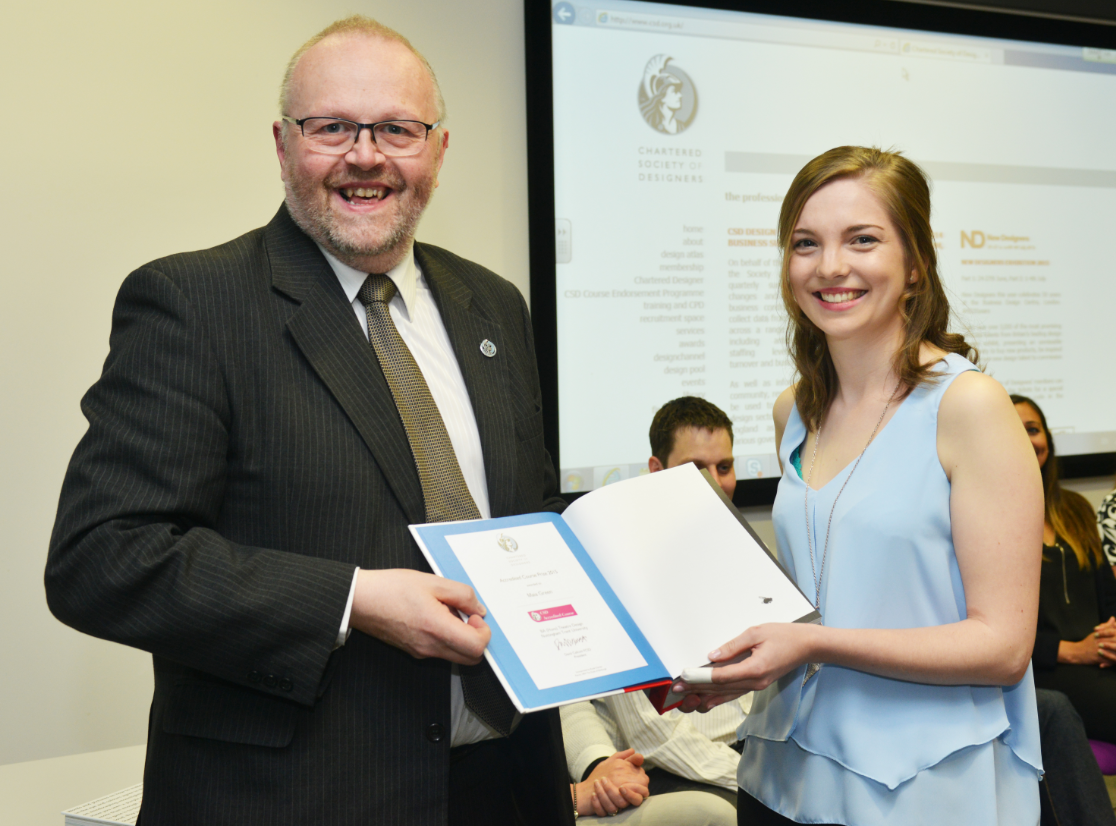 Plymouth University
BA(Hons) 3D Design Product Designer
The award was presented by Oliver Blackwell MCSD, Industrial Designer
The winner was April Lander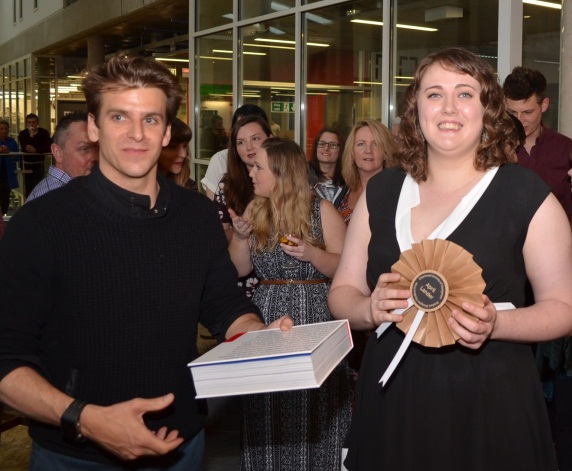 "Being creative is a fundamentally uplifting experience for me, partly because I believe that the design process is very much like playing. My ethos is to value play and utilise it to aid me in my creative process. I believe play is the physical manifestation of creativity and can lead to new and engaging ideas. Throughout my design journey I have rediscovered that play is not something to be earned after hard work, it is part of process and should be celebrated. The ability to play and be creative is what inspired me to pursue the design field as I felt this would enable me to not only explore this ideology but to bring it into the physical realm to share with others. It was always a subject that baffled me, why do we devalue play so much once we reach adult life? Why throw out a process that enhances creativity, enables freedom of thinking and can potentially make us happier and more productive during the strenuous world of work.
My time at Plymouth University has helped me answer some of those questions and structure and focus this way of thinking by giving me the freedom to become a designer of my own making. The right balance of guidance and personal development is what aided me to become a more confident and playful designer that will hopefully propel me into a career where the idea of playing whilst working is encouraged and celebrated.  My advice to future design students is this:  experiment with all forms of process and media, don't be afraid to do things differently and don't aim to fit into a designer mould, make one yourself."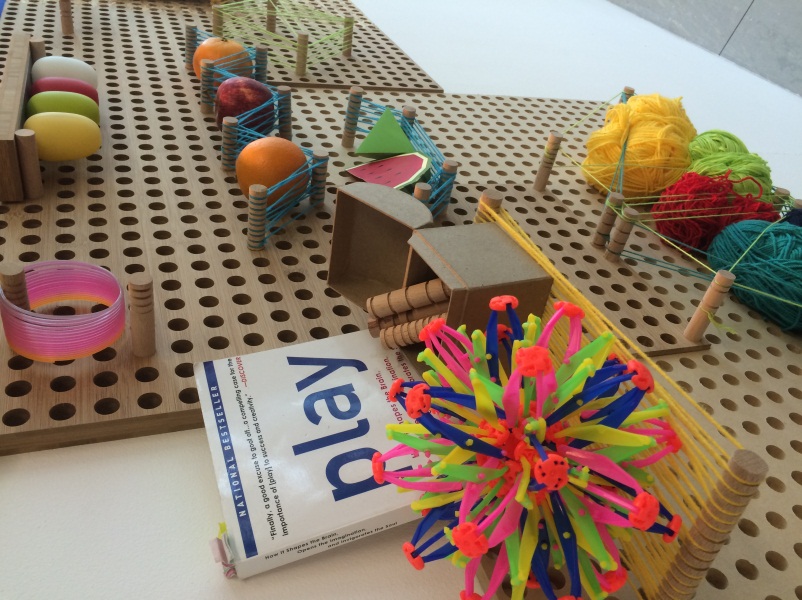 For April's project 'Playing with Design' she created a peg board that utilises wool to create fun and interactive shelving. By weaving wool between the pegs you can make strong and colourful shelving to celebrate objects you wish to display. The focus of this project was to help users tap into their creativity by making them play with something as generic as a shelf.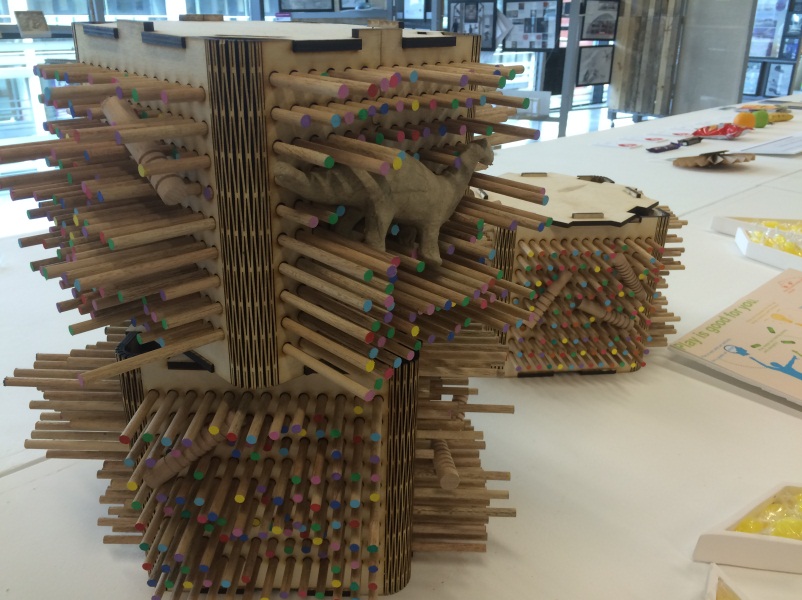 Taking inspirations from a retro toy April's 'Pin boxes' are modular products that use the simplicity of pushing and pulling pins to encourage play and creativity. An object can also be pushed into the pins to create interactive storage that reflects the object on the other side. Their stackable nature can create a pillar or fun, interactivity and play.
Sheffield Hallam University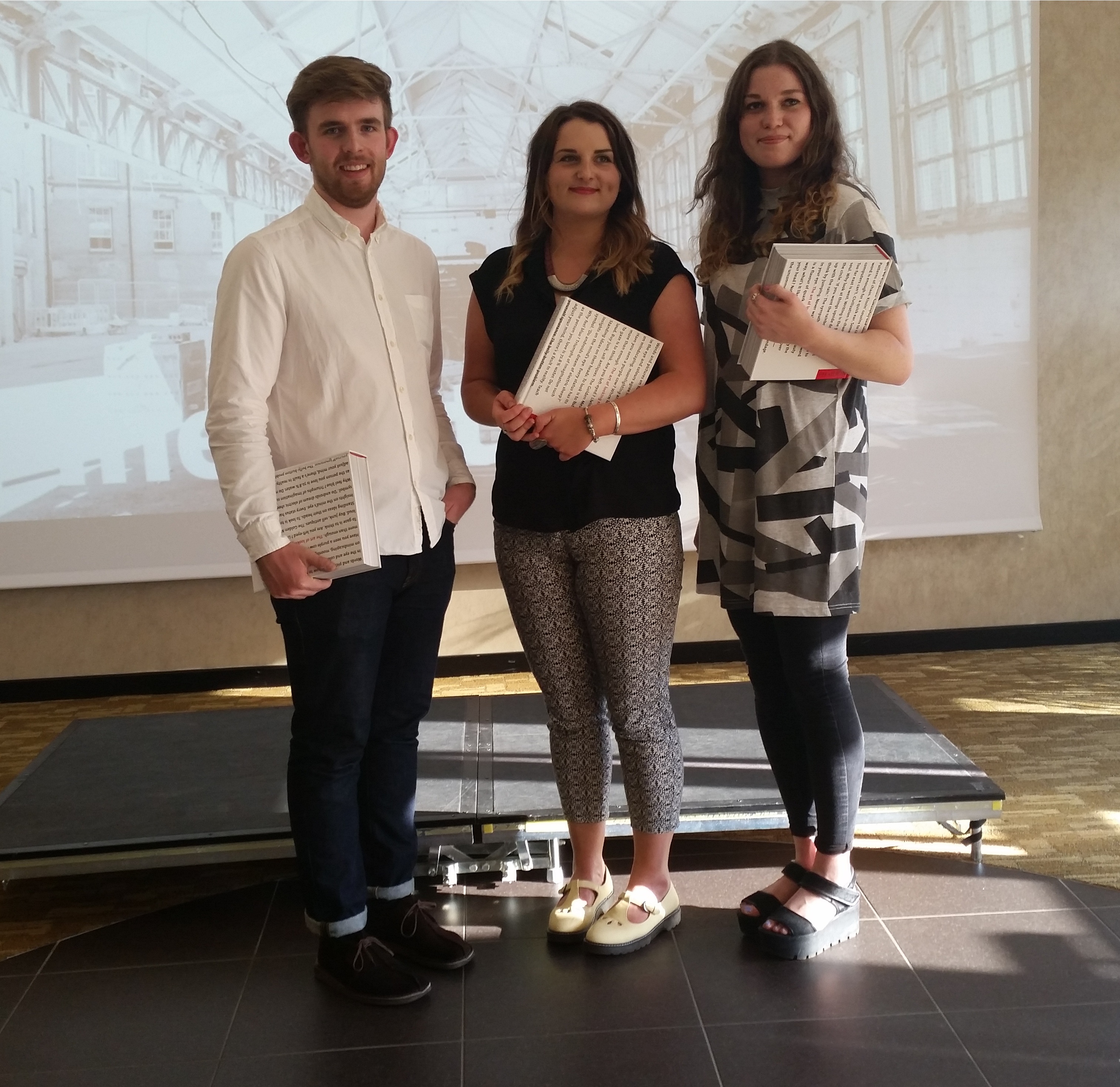 (Left to right: William Butterworth, Abbie Gostelow and Sophie Cooper)
BA(Hons) Graphic Design
The award was presented by Chris Ramsden PPCSD, Industrial Designer, Honorary Treasurer and Trustee at CSD
The winner was Abbie Gostelow
"Graduating from the BA(Hons) Graphic Design course at SHU, I hope to further pursue my interest in typography, print and editorial design. I am also a passionate visual communications designer and I am always looking for new challenges.  I consider myself to be a Graphic Design problem solver and I bring this attitude to all of my work as I believe that design should influence opinions, change behaviours and solve problems. Growing up in Sheffield means that  I lived in a city full of interesting design, industrial past, as well as amazing architecture and scenery; my love for my hometown influences my design work.
If I had to choose my main attributes as a designer I would say: the quality of my ideas and concepts attention to detail and a high level of craft."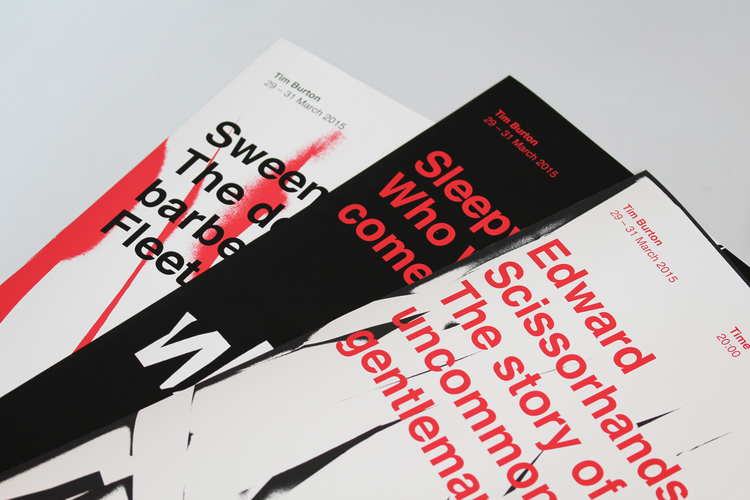 The brief asked for the power of type to be used to create a new visual language for film advertising. Abbie's response was to create a series of posters for the films: Sweeney Todd, Edward Scissorhands and Sleepy Hollow, which were  all directed by Tim Burton. Different tools were used to cut each poster referring to objects within the films. For example the Edwards Scissorhands' poster was cut using scissors, the shredded paper was then scanned in to create the visuals.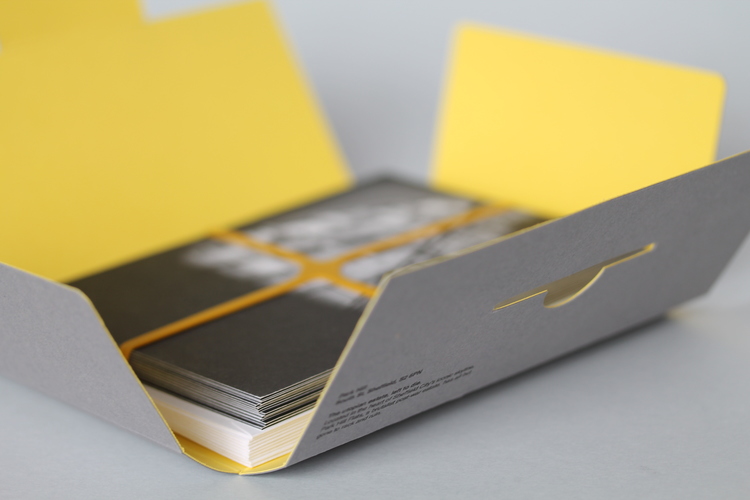 'Park Hill Postcards' was a self-initiated brief to design a series of postcards for Sheffield, focusing on subverting the concept of postcards by photographing the darker more unattractive points of Sheffield, particularly Park Hill. The images highlight the angular man-made nature of this iconic brutalist building. The packaging highlights the contrast between the old and new parts of the building using colour which explains the use of an index.
BA(Hons) Fashion Design
The award was presented by Frank Peters FCSD, Chief Executive of CSD
The winner was Sophie Cooper
"I am very proud to have received the CSD student award for the Fashion Design course at Sheffield Hallam University. Fashion Design has always been an interest of mine from an early age, watching endless episodes of the American series of 'Project Runway' inspired me to want to create my own designs and it was inevitable that my hobby would lead to further study in this area and ultimately a successful career. 
Having completed an integrated master's degree in Fashion Design over 4 years at Sheffield Hallam University, I have developed many skills that will help me in my future career; some of these include:  experimental pattern cutting, high quality garment construction, keeping up to date with present and future trends and developing technical skills on Photoshop, Illustrator and InDesign which has allowed me to produce quirky, fresh and interesting design ideas that are unique to me. Studying  Fashion Design allowed me to attach a theory to my work in order to help solve a contemporary design issue that developed a unique outcome.
Upon finishing my course at Sheffield Hallam I have been lucky enough to secure a job as a junior/assistant designer with a company that supply to leading high street retailers and online e-tailers. My future goal is to continue to expand my skillset in order to eventually obtain a senior designer position. My advice to new design students is to work hard, enjoy what you do and make the most of the resources and help around you. Do as many internships as you can!" 
In response to a homogenised fashion landscape and the over consumption of short-lived trends, 'The Ever-changing Canvas' modular clothing collection aims to promote individuality through long-lasting, experimental design. Inspired by frenetic, contemporary, abstract artwork, zip-off interchangeable modules of block colour and print produce never-ending stylistic combinations and a creative canvas of unique clothing for the modern young woman.
BA(Hons) Interior Design
The award was presented by Richard Thorpe MCSD, Senior Designer, Interior Design at CPMG Architects
The winner was Amber Addison
"I see myself as a very creative person and I have always been interested in design, especially interior design. Since completing a placement in London and my final year at University I have become confident in my own skills and have developed my own design style. I have been able to create a portfolio of work that demonstrates my abilities and hard work throughout my life at University. I have been freelancing for commercial design companies since November 2014 and in the future I hope to specialise in restaurant, bar and retail design within an established business. 
I developed a unique visual style early on within my degree which I would recommend to new designers as a way to stand out for future employment. I also think it is really important to enjoy what you are doing and to have a deep interest in the area of work that you go into, pick something you love and have fun with it."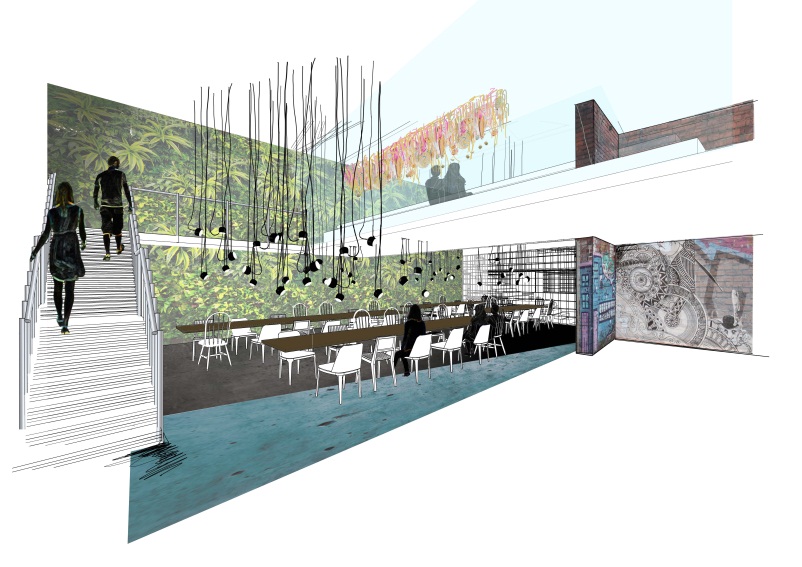 'The Rabbit Hole' is an experiential Restaurant, Bar and Urban Park set within a derelict building in Sheffield. This is the Main room, it has a full height living plant wall, scaffolding stair case and hidden doors.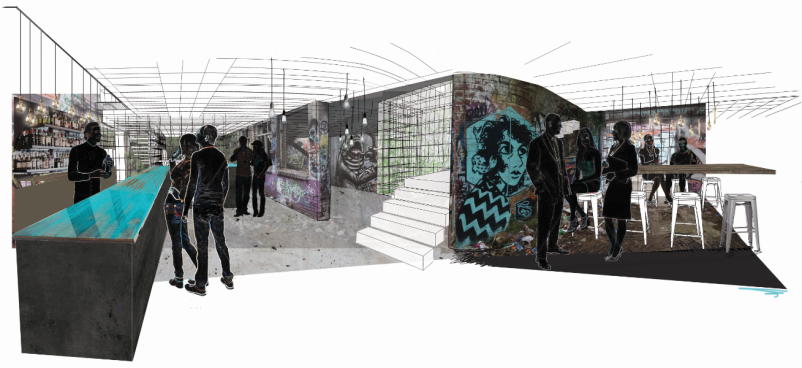 The bar gives an industrial and dark feel to the space with the original graffiti being retained. Reinforced bars create partition walls, furniture and staircases.
BA(Hons) Product Design
The award was presented by Andy Bell MCSD, Industrial Designer at Renfrew Group International
The winner was William Butterworth
"My passion for design has developed in multiple areas as I have tried to explore different aspects of design to keep my approach fresh, whilst challenging norms in an attempt to improve products and the experience of the user. My goals after graduation are to hone my skills through industry experience, in order to develop into a better designer. 
My time at University has allowed me to develop an understanding of the history of design as well as the necessary skills which are required to reach a highly defined project outcome. I always strive to do better and develop new skills, working to as high standard as possible has always been a target of my mine, whatever the project, it brings me great satisfaction to know that the end product is as refined as possible."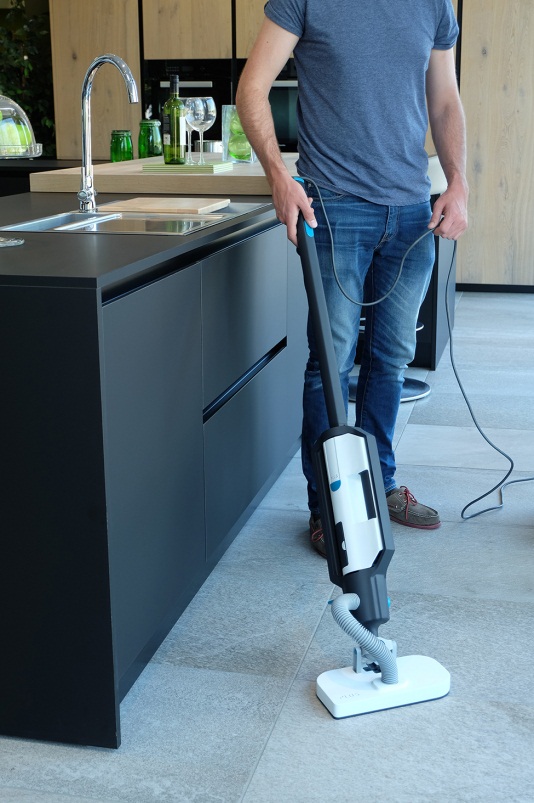 'Plus' is an innovative 2-in-1 steam cleaner for the home, designed for comfort and usability. The reticulated head and sturdy frame makes floors quick and easy to clean, whilst steam is generated in a fully integrated but easily removable handheld unit that is perfect for cleaning a wide range of surfaces around the home.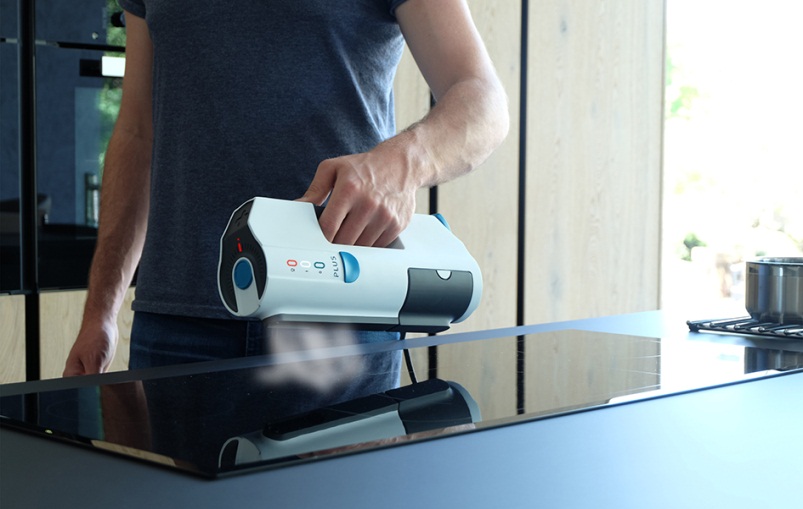 Honorary Treasurer and Past President of CSD, Chris Ramsden PPCSD, said:

"It's a great honour for us to present these awards; we have been incredibly impressed by the quality and breadth of creative work and we are happy to be associated with such a wealth of talent… CSD is always here to help and advise, and as these students leave to start careers in the creative industries, we hope they will take full advantage of the society membership they have been awarded. CSD associate membership demonstrates to potential employers and clients that you have a commitment to professionalism in your chosen career and that you are serious about developing your skills and experience as a designer."