08.12.2015
BODW 2015 Hong Kong – The Brand Asia Forum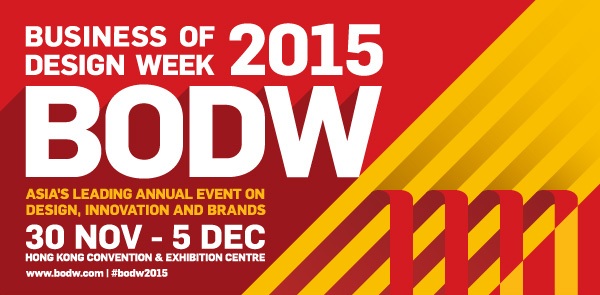 Business of Design Week (BODW) is a flagship event organised by Hong Kong Design Centre since 2002. Each year BODW brings to Hong Kong some of the world's most outstanding design masters and influential business figures to inspire the regional audience on creative thinking and design management. In addition it also provides a valuable platform for participants to network, exchange ideas and explore business cooperation. Today BODW enjoys the reputation as Asia's leading annual event on design, innovation and brands.
The Chartered Society of Designers is one of the founding members of the Hong Kong Design Centre (HKDC) and the Federation of Hong Kong Design Associations. On the CSD blog we will share with you some highlights from this year's BODW programme.
–  BRAND ASIA FORUM –

Edmund Lee, Executive Director of HKDC welcomes a programme of esteemed speakers from around the world to this year's BODW.
"The BODW Week activities are designed to send the message to the Hong Kong community that innovation is for all." – Lee
Moderator Guy Parsonage starts the day's proceedings.
"As designers we want to change the world for the better!" -Parsonage
His introduction was followed by award winning designer Carlos Velazquez, Corporate Marketing Director for Roca Group Barcelona. Velazquez points out how important communication is to drive design and design branding – this should be integrated with design management and understanding customer needs.
"Products have to perform for everyone." – Velazquez
Ferran Figuerola is CEO of CRICURSA who specialise in designing glass for challenging architectural projects around the world, he spoke about the future of glass production techniques and the exciting prospects that 3D printing could bring.
David Butler, VP Innovation and Entrepreneurship at the Coca-Cola Company (USA) who explains that Coca-Cola is opening its doors to entrepreneurs and that the new wave of innovation will involve big companies working with entrepreneurs to solve problems they are unable to. The challenge to large organisations is protecting their creations.
"In today's new world digital data is the new oil to create products, data is the accelerator for start-up firms." – Butler
Chris Fjelddahl, partner at Eight Partnership (HK) discusses brands and the importance of shaping brand experience. Fjelddahl was asked 'where does Hong Kong stand on creativity?' he answered:
"I think Hong Kong is at the start of a golden age – we are on the cusp on understanding the anchor of design." – Fjelddahl
Up next was Maria Sebregondi, brand equity advisor at Moleskine (Italy), she explained how those working in creative industries are exposed to massive amounts of information and need to 'cultivate the blank space around the mind.'
All of the morning's presenters took part in a panel discussion about embracing collaboration.
"Collaboration opens the way to new opportunities by combining key strengths." – David Butler
Ray Fok, consultant Digital Experience and eCommerce, GP and MD UX3 Group (HK), moderated the second part of the presentation. The talks were somewhat interactive and the audience was invited to ask the presenters questions using their mobile devices.
David Sancho Grau, CEO MANGO (China, East Asia and India) talked about design and innovation in the fashion industry.
"in-store innovation is moving towards the use of the Internet of Things to create new customer experience." – Grau
He was followed by Jeffery Yau, Founder and CEO Puyi Optical (HK) who talked about his company's commitment to remaining at the industry's forefront, believing that luxury lies in the prestige of an experience.
Jordi Basells Vallsis manager of Desigual in Asia Pacific and America, offered examples of the company's unconventional marketing choices.
Leo Chan director AMENPAPA (HK) was introduced and discussed relationship building and storytelling.
"We are never short of stories to tell, and even use the back of receipts and packaging to tell stories to help to create brand awareness," – Chan
Didac Lee i Hsing, board member of FC Barcelona, 3rd vice chairman Fundacio FCB (Barcelona), and Xavier Asensi Managing director of Asia Pacific from the sports marketing sector are next to present. They point out some of the localised digital platforms they use including a Chinese-language channel.
The final presenter is Thomas Heatherwick, founder of Heatherwick Studio (UK). His projects include the redesign of the paper mill where British bank notes were made for two centuries, which was transformed into a facility for making gin. He also revealed some of the secrets of the design process behind the 240 piece copper cauldron for the 2012 London Olympics.
"It was a closely guarded secret, we couldn't even tell our families about the design and we even had to destroy the drawings. People want to do special things and designers can be part of it." -Heatherwick