20.07.2007
CSD Minerva Medal 2007 awarded to Lord Rogers of Riverside
The Minerva Medal 2007 has been awarded to Lord Rogers of Riverside in recognition of his outstanding achievements in urban design and architecture.
The Minerva Medal is the highest accolade the Chartered Society of Designers (CSD) can offer and is awarded for a lifetime achievement in the field of design.
The medal was presented to Lord Rogers by the Society's patron HRH The Duke of Edinburgh at the Minerva Dinner (pictured), a black tie event held at St. James's Palace on October 22. Whenever the Medal is awarded it is presented at the Minerva Dinner, a special celebration of the Society and its work.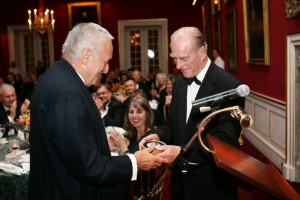 Over the years it has been received by many who are legends in the design world and who have done so much to raise the profile and professionalism of design and indeed the Society. Past recipients of the Medal include Milner Gray FCSD, Misha Black FCSD, Charles Eames, Milton Glaser, Kenneth Grange FCSD, Jeff Banks FCSD and Alberto Alessi.
The Medal is cast from sterling silver and bears the proud profile of Minerva, the Roman Goddess of Wisdom, Knowledge and Education, and of course the logo of CSD.
The oration at the Minerva Dinner was given by Deyan Sudjic OBE, Director of the Design Museum, said: "Richard's studio is working all over the world. They have built Madrid's new airport, one of the most civilized in Europe. There are law courts in Belgium, towers in Manhattan, but at the same time Richard is essentially a London architect. He has built some of this city's key landmarks and there are more to come. There are few people like Richard Rogers who have the capacity to make extraordinary things happen, and that I suspect is really why we are all here tonight to pay tribute to him."
CSD's Chief Executive, Frank Peters said: "Lord Rogers has proved through his extensive career that his concern is not purely limited to architectural concepts in the traditional sense. His work encompasses the wider aspects of design in the built environment, in particular with regard to design for living within urban spaces."
"In exposing the internal services of buildings to the outside environment he has demonstrated that building and environmental spaces are interdependent, therefore highlighting the wider design role and responsibility of the architect."