06.11.2017
Montreal Design Declaration
On 24 October 2017, the Montréal Design Declaration was signed by eighteen international organisations, representing upwards of a million practitioners. The Montréal Design Declaration is an historic milestone for the international design community. For the first time, the international organisations representing designers, architects, planners and landscape architects are speaking with one voice, outlining the potential of design to address important challenges facing humanity and issuing a joint call to action.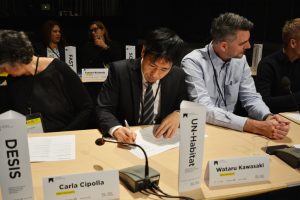 Water Kawasaki, United Nations Human Settlements Programme (UN-Habitat)
The Montréal Design Declaration, was issued at the "World Design Summit" an event that included a Congress and Exhibition and other events.The Declaration was signed by the fourteen international organisations and partners who had collaborated to write the document including International Federation of Landscape Architects (IFLA) and International Federation for Housing and Planning (IFHP) and four additional design organisations in the presence of representatives of three UN agencies (UNESCO, UN-Habitat, UN Environment). The Montréal Design Declaration lists in Annex more than 600 professional associations, universities and design promotion entities, from 88 countries, that are represented by the international organisations.
The Society is pleased to be a member of ico-D and therefore a signatory to the declaration.