28.06.2020
Eileen Gray, Designer and Architect book review and offer
Eileen Gray
Published by Bard Graduate Centre, New York, in collaboration with
Centre Pompidou, Paris, and the National Museum of Ireland. 2020
20% discount for CSD members – login to retrieve your offer code before 31.7.20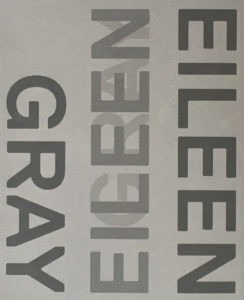 The first thing to note when picking up this book is its soft, silky smooth cover that offers a surprising contrast to its hefty 2Kgs weight. The flexible cover immediately allows the pages to fall into a tempting first flip through the pages. At this point you realise that this is more than just a book, it is a catalogue, a collection of essays, a research document, an inventory of Eileen Gray's works, a timeline in design and a visual feast and references for any designer.
The sheer volume of text and information has resulted in some less than comfortable visual wrap arounds, typographic spacing and squeezed margins which might only have been addressed by increasing the number of pages and weight of the book significantly. That said, the 504 pages provide a detailed, painstakingly researched, chronological account of a fascinating designer who, as you amble through the catalogues, clearly influenced many practicing in decorative arts, furniture, design and architecture.
The catalogue is published to coincide with a major new exhibition at the Bard Graduate Centre in New York of Gray's work and perhaps more importantly her life, and explores material hitherto inaccessible until released from private collections into the public domain or newly translated from French manuscripts.
Born in Ireland into a wealthy family in 1878, Gray enrolled in the Slade School of Fine Art (London) to study painting in 1900 and started studying Asian lacquering a year later before moving to Montparnasse (Paris) to study drawing an 1902. Travelling widely in her early years provided the stimulus and influence in her development as a designer and not least her travels in 1908 to the Atlas Mountains where she learnt about the weaving and dying techniques of local artisans which led to the opening of her workshop in Paris in 1910. Travels in the United States, a brief period living in London and opening a workshop there and the First World War were followed by Gray resuming work in her Paris workshop and commencing work on interior design and architectural projects, both for clients and for her own property purchases.
Apart from foreign travel the rest of her life was spent in various parts of France exhibiting and selling her designs, carrying out architectural commissions including the iconic E1027 holiday home, and purchasing and developing her own property portfolio concluding her architectural work with her own home Lou Pérou built on the vineyard she had purchased15 years earlier.
The book itself splits into five sections following the introductions.
'Beginnings' sets out a whole series of influences on the young Eileen giving a background for the design work to follow throughout her life.
'Being a Designer' gives some fascinating insights into the thinking processes underpinning Gray's work and contains detailed notes about the tools and methods used to produce woven and lacquered artefacts. Particularly fascinating are the pages from her notebooks setting out techniques and details of the work she undertook.
'Being and Architect' describes Gray's approach to both interior design and architecture, how they are both separate adventures and how she plays one against the other in terms of space and light exploiting fully colour and texture. This section refers extensively to the new architecture of the day and making interesting comparisons with Gray's approach, not least how architecture was practiced and by whom. It is important when reading this section to realise that Gray was a self-taught architect in a predominantly male environment and whilst acclaimed as a designer since before 1910, her architectural prowess was not so easily won. However, her first major project E1027 would place her firmly amongst the leading lights of the profession and would become a major work of modern architecture.
By page 247 of the book we embark upon the final two sections, case studies in 'Decorative Arts and Design' and in 'Architecture'. This fills the second half of the book showing completed and concept designs for projects with most being accompanied by detailed notes and sketches. It is the very nature of this tome as a piece of important research that the projects should be supported by such detailed background information often in raw form, scraps of paper with sketched details, tracings, overlays and crossing and scratching out. This is a designer at work.
Pawing over the images of Gray's projects one can't help but notice what influenced her and most importantly her influence on design. Abstract rug designs that can be seen offered today in many contemporary design-led retailers, office furniture that pre-dates popular 1960/70s moulded items and post-modern lighting units.
Above all it is the acknowledgement that architecture is just another form of design that strikes when navigating this book and how Gray works seamlessly in both. A concept proven by her initial practice in design and eventual free flow into architecture. Perhaps her 'cabinet d'architecte' (1925) epitomises in its title this combination and in its form the complexity of balancing natural textures with geometric principles. It conjures up so many design styles and names when looking at it which sadly one can only do as a photograph with the only existing example being the one in Gray's possession from 1925 until her death and belonging to a private collector.
Gray was appointed a Royal Designer for Industry in 1972 and died four years later in Paris at the age of 98. On and off Gray's work receives attention, more and more frequently than in the past. This book should ensure her legacy as a designer and recognition are sustainable.