25.02.2016
CSD Product Design Student Workshop
In January CSD welcomed students from Plymouth University's 3D Design: Product Designer course which is Accredited on the CSD Course Endorsement Programme (CEP). Students enrolled on an Accredited course are granted free student membership of the Society and benefit from a range of resources and services including the opportunity to attend workshops where they are able to discuss their work with top design practitioners.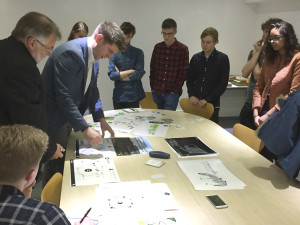 The session was run by long-standing member of the Society Paul Mellor FCSD, a graduate of Industrial Design from Loughborough University and founder of London based design agency Mellor and Smith. Paul was frank and constructive when offering advice to the visiting students who in turn responded positively and professionally being eager to learn.
The course at Plymouth University has an enviable reputation and students gain experience working on a range of projects from the initial strategic and conceptual design stages, through to detailed implementation whilst integrating the essential aspects of business, human and technical factors. They have the opportunity to design a variety of products across a range of industries including; domestic consumer goods, medical well-being and health care products, scientific, goods for hi-tech, leisure and recreational industries, together with industrial, computer and digital products.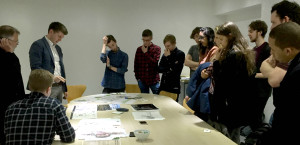 Course leader Mike Woods explained the purpose of their trip to London and the outcome of the CSD Student Workshop:
"Each year we make a pilgrimage to London to visit design studios and top up on the latest design culture. This year we managed to fit 7 visits into our 2-day trip to inspire our 3rd year Product Design students as they embark on their major projects and fine-tune their career aspirations.  
We started at the Royal College of Art where former Plymouth graduate Dr Robert Phillips is a senior tutor on the Design Products course. It was reassuring to observe that our studio and workshop facilities compare well with what's available at the RCA and to discuss the value of establishing a dynamic studio culture. As pressure on resources across the HE sector increases it is good to be reminded of the value of the less tangible assets a thriving design studio has to offer.
We encourage our students to think holistically, to craft complete product experiences, to support this approach we are fortunate to have access to some of London's most inspiring design studios. This year our students had the chance to visit Ideo, Method, Tangerine, the Agency of Design and Berry Place Modelmakers. The designers we met were very generous with their time, discussing recent projects and offering feedback and guidance to our students on their current projects. First hand experience of the level of skills demanded in professional design practice can be daunting but the value of these opportunities is considerable as we fine tune work for competition briefs and find direction for major projects.
Our trip culminated at the Chartered Society of Designers.  As an accredited course within the CSD's Course Endorsement Programme, we have benefitted over the last 3 years from insight and feedback from the CSD team and a number of fellows. This year we were pleased to discuss our work with Paul Mellor, we're grateful for his energy, giving constructive and insightful feedback to each of our students in quick succession was no mean feet!
The students have returned to Plymouth full of enthusiasm for the challenges ahead of them."
The event was a great opportunity for students to gain some valuable feedback on their projects and ideas from an experienced product designer. There was a huge variation in the type of products the students had developed in response to briefstackling important societal issues. The students all showed great potential in their ventures providing creative solutions to some challenging social problems.
The Course Endorsement Programme was designed and developed to formally endorse, encourage and support excellence in design teaching and study across all design disciplines both nationally and internationally. Courses offering academic awards at level 6 or above are eligible for Accreditation and need to demonstrate that they provide a design education that prepares their students to embark on a career as a professional designer practicing to the highest professional standards.
If you are interested in participating in the Society's CEP Programme please email cep@csd.org.uk

Find out about the CEP Application Process