26.09.2017
CSD Accredits C4D Courses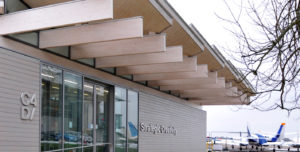 Two master of design courses at the Centre for Competitive Creative Design (C4D) are the latest to gain Chartered Society of Designers accreditation within the CSD Course Endorsement Programme, a collaborative initiative with academia that recognises and supports excellence in nurturing designers 'from learning to earning'™.
C4D was established to address the 'Cox Review of Creativity in Business' with the objective of helping to embed design-driven innovation thinking in commercial and educational practice. Based at Cranfield University and named by Business Week as 'one of the world's best design schools', it is the international centre for strategic product and service creativity developing and delivering interdisciplinary postgraduate programmes, research, executive training and industry based collaborative projects.
Commenting on the accreditation, the Chief Executive of the Society Frank Peters said, 'The courses delivered by C4D point the way forward for the design profession which is seeing design thinking increasingly adopted as a strategic business tool thus requiring designers to practice in a new domain in order to deliver a competitive edge. This educational programme, together with the Register of Chartered Designers and our framework for professional design practice (CPSK) offers staff and students of design, practitioners and the design sector the means to successfully negotiate this new design paradigm.'
Dr. Leon Williams, Head of C4D, said, 'We are delighted to receive this accreditation from the internationally renowned CSD, and look forward to a close working relationship with them. These new courses will give students the cutting-edge in an increasingly competitive business world. Design-driven innovation is at the heart of what we do, and the business leaders of tomorrow will need to be creative, adaptive, and able to take a multi-disciplinary approach to the work they do.'
The two MDes courses gaining accreditation are 'Innovation and Creativity in Industry' and 'Design, Strategy and Leadership'. As part of the five year accreditation licence all learners receive free student membership of the Society and will benefit from design practitioner visits and workshops.
Centre for Competitive Design (C4D)
Cranfield's Centre for Competitive Creative Design (C4D) is an internationally recognised and award-winning centre of excellence for creative design, strategy and leadership.
Through its postgraduate programme, the Centre – named one of the world's best design schools by BusinessWeek – develops forward thinking professionals with the ability to integrate creativity and design thinking in the business functions of management, engineering, communication and commerce.
The Centre delivers leading research in the fields of strategic creativity, the Circular Economy, and breakthrough innovation, and collaborates with international best practice organisations such as Procter and Gamble, Cisco, Oxfam, Whirlpool, SAB Miller and IBM to develop new leading edge tools and innovative product and service solutions.